Trance Deepener
Induction for those who want to experience a DEEPER state of trance with your Princess.
Description
Level: Moderate
Length: 20 minutes
Category: Inductions
Trance deepener:  For those who want to experience an even DEEPER state of trance with your Princess.  Listen to My voice as you surrender to relaxation... slip into a wonderful trance, fall deep into yourself, into the warmth of a warm blanket snuggling you closely.  My words will guide you, just let go and trust this feeling.
I want to take you deeper...so get cozy and just feel yourself letting go...Listen to this file before each Hypnosis file to achieve the deepest trance....you will soon fall for ME.
Product Download
Induction-Trance-Deepener-vus5t7dh.mp3
Induction-Trance-Deepener-vus5t7dh.mp3
Reviews
Sunday, 11 March 2018
It really helped me to reduce my inner resistance just here on the beginning path. It is a process of trusting and I have no idea what will come next. This file helped a lot to open my inner filters ...
Thursday, 08 March 2018
When you try to resist, Domina Shelle. You will soon realize you have already lost. Her sweet sexy voice will relax your mind, this intelligent domina will guide you, into a deeper level of trance. She will use her words to slowly make you lose control and you will do it willingly.

Sunday, 09 July 2017
I have moved from Good boy to trance deeper and can feel the aching grow already, dropping deeper, dropping harder.

Shelle really is getting inside my mind and I simply ADORE this file.

The feeling of completely letting go, trusting Princess completely ... It feels incredible.

And amazing file to use as a tool to go deep, essential listening for anyone desperate to fall.

Thank you Princess

Will
Friday, 16 June 2017
This file is like a training file for me. I love to listen to this file. It's really deepening my trance and makes trancing so much more enjoyable...
Monday, 09 January 2017
this file is great too get relaxation to get ready for other files you wish too listen too
Monday, 19 September 2016
I have to be h
Monday, 19 September 2016
This file is intended to induce a deeper trance and I love what Princess Shelle did to me in this session. Her sweet & gentle voice is so easy to listen to, as she makes clear that there's no need to resist her and that it would be much easier to just let go and relax, which automatically happend, as her words made me feel so safe and cared. I can't tell if I ever tried to resist or when my resistance dissolved and Princess started to hypnotize me. But I felt really good, when she woke me up and I realized, that she is right. No need to resist. I trust Princess Shelle and whenever time permits, I listen to this session, right before a new one.
Monday, 25 July 2016
Trance Deepener works as claimed. Wow. 20 minutes outside of time and space. I begin to understand the testimonials of more advanced audio files: Princess Shelle all the way, baby. That voice slips right into place and the only sensible response is equilibrium, balance. She demonstrates why resistance is silly. Simplicity is better and easier. Mmmmmmmm.
Tuesday, 07 June 2016
It's been ages since I listened to this file, so on a whim I decided to do so again this morning. It really is a lovely little file, particularly since you can enjoy it alone or follow it up immediately with a second file to amplify that trance. I will DEFINITELY be using it again!
Monday, 16 May 2016
I love this file! This file is simply astounding and will take you so very deep, deeper every time, before you even realize what's happening. Princess Shelle really and truly has a way with working Her way into your mind and this file is testament to that fact. If you're thinking about getting this file... DO IT! You will not regret it!
Saturday, 26 March 2016
If you are reading this then you may be starting the most amazing journey. Domina Shelle is the best!!!
Tuesday, 16 February 2016
A terrific file to "set the mood" so to speak. It's amazing to me just how much Princess Shelle does in this short file. You'll get a deep trance and I think something of a trigger as well - a trigger that is used in lots of other files. A must have for your collection, listen when you need a quick yet enjoyable trance or to prove your experience with just about any other file. This file seems longer than it is, in a good way!
Friday, 08 January 2016
A very relaxing file which sends you into a deep trance for your princess. Any resistance you have will be washed away by Shelle's captivating voice. A great file to listen to by itself but its affects are even better when listened to before another file.
Saturday, 25 April 2015
Ahhhh, to deeply go, where no one has tranced before. This is one amazing induction, You will go so much deeper playing this before any other file you want to listen to. Princess Shelle uses her skilled arsenal of gentle persuasion to lull you into a sweet and sensual trance. The result on me personally though was a very deep, and calming trance, bringing me deeper faster the more i use it. Just what the doctor ordered, Doctor Shelle that is.
Tuesday, 09 December 2014
This really does work. When ever I have the time I try and listen to this before listening to any file. I also loop it with other files while I sleep and I really feel my Dominas influence even more when I wake up. If You truly want to serve Domina Shelle, you NEED this file.
Monday, 21 July 2014
As i bought it i hoped for a slight deepening of trance when listening to it in connection with other files. But this is incredible... i seem to get deeper and deeper every time make such combined playlists again. Domina is definitely not exaggerating with her description. Thank You so much Domina for this amazing file.
Thursday, 27 February 2014
Another wonderful step towards my Princess. I made this file part of my daily routine and it makes me fall into a warm trance whereafter other files feel even stronger and more addicting.
Monday, 27 January 2014
This is a really nice, gentle trance that I find myself enjoying quite often. It is very peaceful and relaxing, but actually gets quite personal; I find myself quite deep in trance, really enjoying the sound of Princess Shelle's voice. It s a dreamy journey that you can chose to continue with another file, or just jump off here.
Thursday, 07 November 2013
I'm new here, and haven't heard that many of Princess Shelle's files, but this is definitely my favorite so far - a perfect example of why the Princess has been able to take so much farther than anyone else. Although it is called a deepener, it works quite well for me as an induction - when I make a playlist of files, it works best for me to put this one first. The first few times I listened, I felt that the file was directed at someone else, someone who is trying to resist, but it probably is even more effective because I'm not trying to fight it. And I realize there must still be parts of me trying to resist, and that this file seems to quiet them. The thing I like most about this file, though, is there are times when I see exactly what She is doing, why She has chosen those particular words in that particular order. It would seem that should make the words less effective but I listen and just sort of marvel at what She is doing, and I have the feeling it probably actually makes the commands even stronger. Those are just things I like about the file, I have no idea how to write a proper review, but I did want to say something positive.
Tuesday, 08 January 2013
As other reviewers have commented, this file can easily stand alone. But i prefer it as a starter. This is the smoked salmon or the scallops before a nice juicy rib eye steak. It softens the mind for what is to follow. i nearly didn't buy the file because i thought i could do without it but i'm so glad i did. i'm a questioning, analytical type and before i found Princess Shelle this had got in the way of achieving a deep trance state. But no more. Being the type i am, it frustrates me that i can't figure out how the file works – it seems to me to be illogical - but all i know is that it does definitely work. i still try to follow what Princess says but every time i just end up completely spellbound and none the wiser as to how She did it. All i know is that going so much deeper is so much more arousing and so much more captivating whatever file i listen to after. i think this file is probably the best investment i've made so far (and that's saying something!).
Thursday, 14 June 2012
Despite being intended as a prelude for other recordings, this ranks among my favorites. Princess Shelle begins by assuring you that, should choose to resist, She could not possibly hypnotize you, and then proceeds to show you how silly resistance really is. She has a knack for conversational inductions: the more subtle they are, the sexier surrendering to Her control becomes. While it certainly enhances Her other files, it is also an end in itself. Highly recommended.
Friday, 13 January 2012
This is one of my favorite short files from Princess Shelle. Listen to it before another file and the following file(s) will have a much stronger effect on you. This is a definite must have if you have been ensnared by the charms of Princess Shelle.
Saturday, 07 January 2012
A deeply relaxing experience, this session works on trust and trance depth. It makes me think of Mind Trap in some repects. While it is intended to be listened to before another file it is very much a full meal and you could listen to it on it's own as a trance training session.
Sunday, 01 January 2012
This file is a pure soft relaxation and a great help to listen to any other files from Princess.
Thursday, 08 December 2011
I don't know how Princess Shelle does it, but this file is brilliant and effective, and I recommend it to all, not just if you consider yourself a beginner. Just by Princess Shelle seemingly chatting to you about trance, when Princess said fall, I fell like never before, and this was on the first listen. The files I listended to following were incredibly stronger than ever before. For all those who wish to Fall Deeper for the Goddess that is Princess Shelle, and what slave would not?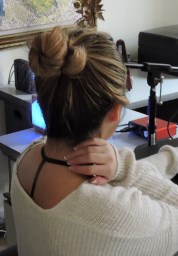 Get Updated