LOC-TOBER Chastity--Week 3


Wow, two weeks in Chastity LOCK DOWN and look at you.  So horny, I have you just where I want you...WEAK for ME, Horny for ME and ready to do anything I want.  I own you.  you belong to Domina Shelle.  Needing to please your Domina has kept you hard and horny during LOC-TOBER Chastity training.  Just the pleasure of craving to please Me with strict obedience to My orgasm control, makes orgasms secondary.  NOW it's time for a little DISTRACTION.  Time to think about MORE than just that swelling feeling.  There are so many ways that I can show you PLEASURE.  Let's just say, you will NOT see what's cumming....and NO, it's not you.  NOT YET!  Be warned the brainwashing involved in LOC-TOBER Chastity - Week 3 may cause irreversible changes within you.  Be sure to download your ASSIGNMENTS and the SPECIAL loop.  The LOOP will be mind blowing and EXTREMELY POWERFUL. (Have you met Lady H)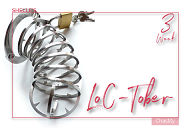 Watch for TEASERS over these final two weeks...I plan to have a lot of sexy playtime with you.
If you are a TWO week chastity slave, email Me for your FINAL session on Saturday.
UPDATES
Your Domina is going to the beach.  Don't worry, I'll be right here with you for all of LOC-TOBER.  I can't wait!!!  Yes, it will be a little cool, but hoping for some warm days.  I plan to do a lot of sitting on the beach and writing.  Scripts that I am working on are "ALIEN Abduction", "Slave Weaver", Sexual Exploitation" and "Maze Of Confusion".  I hope to finish all 4.  Plus, I have an amazing sissy session and FinD session that I will share after LOC-TOBER ends.
Oh and I have NOT forgotten those LAB-RAT journals....I love your f*cked up mind.  I will be responding to your journals either by email and in the next classroom session.
NO classroom session for October.  Too much happening to fit it in...don't want to overload your mind. Giggles!!!
NEXT WEEK
LOC-TOBER final week, another SURPRISE, plus a special RELEASE session...I have decided to bring LOC-TOBER to its climactic explosion on Halloween, the last day of the month.  More on that next week.  Plus some GHOSTLY adventures.
See My special deals ...
The files that are part of each week's LOC-TOBER assignment are in Special Deals, plus a little extra this week.