Snapped
Sexy Trigger training by Domina Shelle.
Description
Level: Strong
Length: 39 minutes
Category: Mind Control-Erotic
Sexy Trigger training.  I'll snap My fingers and you will OBEY.  With each and every snap of My sexy little fingers you do what I want.  This file is a simple TRAINING IN OBEDIENCE.  you LOVE to obey your POWERFUL Domina.  It's always sexy to OBEY ME!  If you LOVE INTERACTION and finger snaps, you will love this file.
Product Download
Snapped-kz0t7ai9-(c)ShelleRivers.mp3
Snapped-kz0t7ai9-(c)ShelleRivers.mp3
Reviews
Thursday, 09 February 2017
The state of mind influences the body posture - this is well known and most often referred to as body language . But it's not a . I enjoyed every second of this recording and I recommend to really follow every of her commands for the full experience.
I wish She would snap her finger now!
Monday, 30 November 2015
A woman snapping her fingers has always commanded my attention, and when Domina commands my attention, I take notice! and when She snaps Her beautiful fingers I really snap to it and take notice. I truly believe Domina can control anything with the snap of Her fingers. I'd say Shes hard to resist, but I never try resisting Her, so I wouldn't know if this is hard to resist. You'll have to ask someone else about that.
Tuesday, 17 November 2015
There has always been something about a woman snapping her fingers. but Domina can make me do ANYTHING with the snap of Her fingers.
More reviews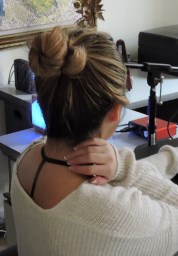 Get Updated