Shelle's Playground—CD
Surrender Trigger CD CD CD
Description
I bet you're wondering what CD means? ~~Giggles~~
I love it when you surrender to Me...Completely BLIND as to what I may ask of you.  That's real TRUST.  So here is yet another SURPRISE on My Playground.
Take a few minutes to listen as I push yet another TRIGGER into your mind.  Then prepare to OBEY My simple COMMANDS.
This is so much SEXY fun for Me.  I do hope that you are loving the lessons in OBEDIENCE.
Product Download
Shelles-Playground-Trigger-CD-(c)ShelleRivers.mp3
Shelles-Playground-Trigger-CD-(c)ShelleRivers.mp3
Shelles-Playground-Initiation-Ver3-im0y5xqk.mp3
Shelles-Playground-Initiation-Ver3-im0y5xqk.mp3
Reviews
Tuesday, 04 October 2016
Well this Trigger was a surprise to me, i didn´t even thought a Trigger like this would be necessary, for me personaly that´s something that should be obvious to every slave and not need a Trigger to make him/her do it, but then again if my Princess makes a Trigger like this, there has to be a reason for it, so i guess my personaly thought on this Trigger isn´t how most slaves see it, so it´s probably the best that she is helping out here, because what this Trigger will make you do is an essential Part of becoming a perfect slave :P

JJFeeder
Monday, 03 October 2016
i am so sorry my Domina, i feel so bad every time i disappoint YOU, i promise that i will never disappoint YOU again, and i promise to always Obey YOUR every word as much as i can, i promise to do all what i can to make YOU trust me and to match YOUR expectations from YOUR loyal slave,
i am all YOURS,
i feel lost, lifeless and useless without YOU, YOU were and will always be my true smiles, giggles and tears
And wherever i am i will always feel YOUR presence in my mind and heart, protecting me and guiding me to be a better person and a perfect slave.
Thursday, 29 September 2016
In a power exchange, one of the great central themes is who is in control and who is not. This trigger is essential in establishing who has the control: Domina. If you like a feeling of helplessness of being controlled, I would fully recommend this Playground Trigger.

Once installed, you will have sealed your fate and lost more of your control to Domina. But then again, what it is and what Domina does requires a listen to find out.
More reviews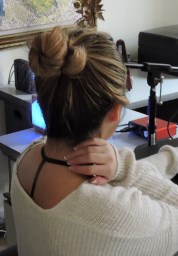 Get Updated