Mission Impossible
She is a dangerous Woman. Proceed with caution.
Description
Level: Medium
Length: 34 minutes
Category: Mind Control-Erotic
Sample: LINK
Hello agent,
There has been some strange reports lately about a mysterious Woman, she calls Herself Domina Shelle.
All who come in contact with Her seem to never be the same, even the most powerful.
When interrogated using our advanced methods the results are the same---the subjects never say anything--- well, except incoherent things.  They only babble about spells, being bound, love, devotion and submission.
Your mission, should you choose to accept it, is to gather intel by approaching Her (Domina Shelle).  We think that She uses hypnosis, so BE CAREFUL and whatever you do NEVER become aroused in Her presence, we suspect it's how She first gains control of Her victims.  It might sound silly, but She is said to have magical powers....something mystical and irresistible...so BEWARE.
Product Download
Mission-Impossible-4kd9eucs.mp3
Mission-Impossible-4kd9eucs.mp3
Reviews
Saturday, 19 November 2016
I have just listened and my memories of what Princess Shelle has done to me are quickly fading. This session is extremely sexy and I'm still incredibly aroused. I'm bound to her even more than before, now.
Sunday, 06 November 2016
Well it´s hard to describe this File, honestly i don´t even know on what mission i was, i don´t know for who i worked, i don´t know if i am an agent or not, i honestly know nothing, all i know is that i meet this beautiful Women, that i got lost in her and woke up extremly horny and craving her, i have no clue if i told her any secrets, i don´t know if i even have/had secrets, i don´t know what she did to me, i don´t know if any of this even was real, maybe it all just was an extremly arousing dream? i really have no idea, i got so confused, all i know for sure is that i woke up in my Bed, extremly horny, rock hard, needing to Cum imagining this beautiful Women, but somehow i wasn´t even able to take care of it, instead i stayed horny and hope that if this was real that i will meet her again, this File really fucked my Mind xD
Saturday, 09 July 2016
To remember the content of the trance is difficult as all the little things i think to remember, seem to get blurry when i try to concentrate on them... i am sure Domina did intent that and blocked my mind somehow... well though i awoke very aroused and horny for Domina Shelle but also relaxed. i think i will re-listen soon to see if i can remember more, and if not i will at least feel relaxed and all so horny for my beloved Domina.
Saturday, 02 August 2014
So good! I'm pretty sure my mission failed. Can't remember the details but I do remember how horny this file left me. :)
Monday, 14 October 2013
i haven't listened to this once or twice. i have listened to this more than 20 times. i'm still puzzled as to what happens to me. So i keep listening, and of course Domina keeps getting the upper hand and i just get more affected and spellbound and... hornier. And i'm still puzzled. So this is really fantastic, and i'll likely listen as many times and then again.
Tuesday, 24 September 2013
All I know is that i've been compromised. Whatever secret mission i was supposed to be on is lost. Shelle weaved her magic over my brain and has left me helpless and horny for whatever her needs are. Guess I'm a double agent working for Her now. The file is amazingly good. I don't remember much of the content, likely because of a trigger. I do know (some of this might be skewed because of experiment training) that Her trigger was super effective. After this file, I rolled over and bit my pillow because i was so aroused
Sunday, 15 September 2013
This file snuck up on me, and before I knew it, I was awakening. I had been listening, feeling restful and relaxed, as Shelle spoke of hypnotizing me, or me hypnotizing myself. I don't know... it's kind of fuzzy. After awakening, I have images of HER eyes, a dancing flame, and HER wonderful legs, swaying back and forth. It seems now, like I had been dreaming, and my stress has been drained from my mind by HER spell. And for some reason, I am horny?!?
Saturday, 14 September 2013
Agent report #01 : Nothing special going on with Domina Shelle at Her ranch, no secret rooms or coven there. She's just a regular smart and beautiful nurse. So beautiful, so charming. The way she gracefully moves, Her eyes especially seem to glow like warm stars and haunt m... sorry I mean she's just a great person anyone will love at first sight. Friendly love of course. I'm not spellbound by Her after only one night at her place, who would think that is true and real, she doesn't entrance and put people under Her spell with Her magical eyes, candle flames and... things like that... that don't exist... I'm not completely devoted to Her nor do I feel the need or obsess about submitting to Her completely and kneeling at Her feet. Just to make sure everything is fine, i'll come back to Her and pretend I am now uterly addicted, spellbound, devoted and completely in love with Her. I can't stop thinking about Her, I need Her so much... uh, need Her to know i'm thinking about Her i mean, so I can... keep my cover intact, of course. This file is perfect. Great and original induction, perfect balance between enticing story and pure mind control, perfect length, perfect tone, perfect everything. I'm serious, go listen to it asap.
Saturday, 14 September 2013
Ordinarily I would attempt to write some type of gushing review of the file here, but I do not remember enough of this file to write such a thing, so I will just gush. I went into an extremely deep trance and I am left feeling extraordinarily aroused. It feels so good that I am going to listen again as soon as possible. If that's not the mark of a good file, i'm not sure what is.
Saturday, 14 September 2013
it's always Hard to resist, and it's Hard to remember, meeting Her is like a dream, it's like a change that happens without you feeling it, just wake up and feel something strange, something different, some spell, but what happened, it's a great mystery, and great file, as usual, Princess level :)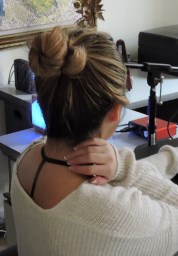 Get Updated