Blanked
A COMPULSION. Another step DEEPER into your MIND and into My control.
Description
Length: 38 minutes
Category: Mind Control-Mind F*CK
Sample: LINK
Have you ever wondered if Hypnosis and Mind Control really work???  Could a hypnotist place a trigger so deep in your mind that it will affect you in a profound way.
If I told you that I have altered your mind in many ways, would you believe Me...Silly boy, the things that you have allowed me to do to you.
Are you ready to accept the control I have over you with a simple TRIGGER, I mean only one word, and I don't even have to say it... and all you have to do is LISTEN and it will be automatic...just as automatic as your eyes getting heavy when you need to sleep.
...This file is your CUMPULSION!
It's BEST to listen to Behavior Modification before listening to this file...YES, again if you have already.
Binaurals that will literally BLOW your mind....My words will cause EXTREME swelling.
Product Download
Blanked-4og0uwcz-(c)ShelleRivers.mp3
Blanked-4og0uwcz-(c)ShelleRivers.mp3
Reviews
Sunday, 18 February 2018
I never thought that unspoken triggers work as good as pronounced ones! Domina is literally teasing my mind by denying me the words I crave to her and as my mind is busy filling in the blanks and reacting to the triggers my subconscious remains defenseless and open for Her manipulation. And She creates more blanks that I fill as She commands. The price that it takes to get back what She had taken is a pleasure to pay but deepens my submission to Her.
Monday, 27 February 2017
A highly erotic experience...Domina Shelle has no trouble reducing the listener to a very mindless and compliant state of mind, a state She makes you want and crave. Obedience will come naturally and automatically, without thought and without question.
Thursday, 11 February 2016
This is the type of file where Domina Shelle really shows mastery over both the art hypnosis and Domina's subject listener. I'd echo the appropriateness of the title, I felt truly blank for the majority of this powerful trance and can only remember little. It has some classic suggestibility techniques and it put Domina in the captain's chair of my mind so totally. It pushes the limits of Domina's power in more than a couple of ways, in sexy and surprising ways, and losing myself inside of it is the most pleasurable submission.
More reviews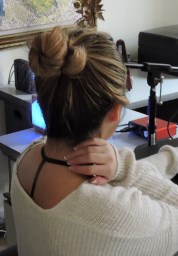 Get Updated