Behavior Modification
A compulsion...highly addictive MIND FUCK. you NEED and DESIRE to listen...
Description
Level: Powerful
Length: 60+ minutes
Category: Brainwashing-Mind Control--MIND FUCK
Sample: LINK
A CUMPULSION.  There is a need and desire deep inside you to listen...you can NOT stop it.  Be aware this file CONTAINS highly effective subliminal messages.  These messages may be unperceived consciously, yet perceived unconsciously.
The subliminal information that I will insert into your subconscious mind will modify your conscious mind, a form of THOUGHT REPLACEMENT.  Don't worry, you will NOT feel a thing.  You may not even realize what is really happening as your "HYPNO-SURGEON" does Her best work. ~~~GIGGLES~~~
Product Download
Behavior-Modification-3azo9bkw-(c)ShelleRivers.mp3
Behavior-Modification-3azo9bkw-(c)ShelleRivers.mp3
Reviews
Sunday, 16 July 2017
I totally agree! - One of the best files. My mind does feel impregnated now – I feel Her thoughts growing inside of my head and my blood is flooded with hormones of happiness and submission. I just want to drop to my knees and whisper – "Please Mistress – adjust my thoughts! Please Domina – modify my behavior – for Your pleasure and benefits"
Friday, 10 March 2017
This file can definitely be considered one of Domina Shelle's best ever. i would say it's in my top 3 favorites in my collection. It is an essential purchase if you have any interest in Domina's work.
Sunday, 15 January 2017
This is an amazing session where Domina Shelle use a whisper style induction to send you into a very deep trance - ASMR like. You will be surprised how deep you will fall and when the conditioning portion of the session starts you are so blissfully under. Domina's words will overwhelm you and be under no illusion, this file is transformative! With repeated listening to this addictive file you will see the world Domina Shelle wants you to see it and you will be very grateful for her vision of your future...
Sunday, 21 August 2016
After I listened to this, I knew Domina Shelle had irreversibly changed my mind. I struggle to remember who I was before, it seems like perhaps I have always been, and will always be in a trance, hypnotized and obedient to my owner, Domina Shelle. This file has set me on a path to deeper and deeper control, and forever more programming and brainwashing to serve Domina Shelle.
Wednesday, 17 August 2016
The subliminal messages she implants into my mind were so very effective that it set me on the path to being completely controlled by Domina Shelle. If you truly want to be Domina Shelle's - and why wouldn't you? -, you need to listen to this file.
Friday, 24 June 2016
This file is incredible. It took me down so deep. Time after time I went deeper. Thats as much as I remember. And the feelings I had after finally wakeing up. This file is truly powerful. The most powerful file I have listened to. It´s been hours since and I still feel the effects. I crave to be controlled, enslaved, owned by Domina Shelle. I feel the need to continue my journey, my training to become the best slave who I can be for her.
Monday, 23 May 2016
After waking from this file, I felt wonderfully relaxed and couldn't think straight for quite some time. I can't remember what my Domina did to my mind, but I feel more submissive and controlled like ever before.
Friday, 22 April 2016
This file will take you deeper then you ever before! You don't want this file you NEED this file, it will change you on so many levels but it's all for Princess,Domina and Mistress Shelle! You want to please her RIGHT!? Then get this file and listen too it
Thursday, 10 March 2016
I love this file as It sends me into the deepest most relaxed state I have experienced. I feel completely blank and helpless as Domina does her behavior modification on me and it is a wonderful feeling. I just want to lay there in that completely blank state forever as Domina programs my mind. And the effects are amazing in this file!
Monday, 22 February 2016
I don't normally feel the effects of files very much, but this one had me in such a blissfully relaxed state that I didn't want to leave. This is a truly amazing file that has left me with a burning desire for more Domina! All I want is to hear Domina's sweet delicious voice over and over.
Friday, 19 February 2016
Domina Shelle told me to get this file after I expressed some curiosity about it. An essential part of my training, She said. Of course I did as She told. The file is incredibly powerful yet incredibly subtle at the same time. The trance is deeply relaxing and hard to remember afterwards yet the effects are undeniable. Before I listened there was a part of me that felt certain that I could maintain control and agency of my body and mind. After listening to this file I realize how weak and foolish those thoughts were - the last little will and resistance in my mind. Now I realize that Domina Shelle owns me, controls me and all my thoughts are hers. I am a slave. Correction. I am Her slave. I love it and you will too.
Saturday, 13 February 2016
This file is the ultimate HypnoDomme file. Domina's skills as a Master Hypnotist is in full display throughout this amazingly powerful file.

If you desire to become truly enslaved and experience this file is a must listen too. One of it's favorites...absolutely love the mixing of the subliminals in with amazing programming.

A got have file which is very addictive.
Tuesday, 09 February 2016
I can't really say much anyone else hasn't already. If you love your Domina, want her in your life, and like seeing her happy, you NEED this file. Why haven't you bought it yet?
Monday, 25 January 2016
Behavior Modification is Shelle's best work since The Experiment! It leaves my mind deeply altered for quite awhile afterwards, increasing with each listening. And I just keep listening... More please, Domina!
Sunday, 17 January 2016
What an amazing file Domina. As i listened to Your beautiful voice i just drifted off and don't really remember a whole lot about this file. All i know is i woke with a desire to hear Your voice more and more. i couldn't help but listen several more times! Awesome!
Wednesday, 13 January 2016
i have not yet felt so strongly in Domina Shelle's influence and control as when listening to this file. i was scared to listened to it more than once but could not resist to experience the control of Domina Shelle. i had to listen again and again...repitition helps conditioning...i just have to listen again and again in spite of Domina Shelle's warning of using powerful subliminal messages.iI hear Domina Shelle's voice when i awake an it draw me to listen again.
Saturday, 09 January 2016
Domina is the Jedi Master of mind control! This is a powerful mind blowing recording. my words cannot do it justice...but hopefully folks get the message.
Friday, 08 January 2016
This file felt different to others I have listened to. After waking up from trance I had no idea what had just happened, what the file was about, everything felt foggy. In all honestly I'm a little scared about what princess may have implanted into my brain but trust my domina knows best for me. The long whispered induction was very effective and took me down into a deep relaxing trance.
Thursday, 07 January 2016
Beautiful file, one of Domina's best. Soothing, relaxing and powerful... Perfection!
Tuesday, 05 January 2016
Domina takes you down little by little. Listening to Her beautiful voice, evermore relaxing. By the end of it I felt my commitment to her reinforced. Wishing nothing but to serve her. i am lost to Her and Her control. i need her always. i must forever obey Her.
Tuesday, 05 January 2016
I feel like a changed person after listening. I just remember my Domina telling me to sleep, and I was out. I woke up feeling very relaxed and at ease. I can't to subject myself to more of my Domina's programming.
Tuesday, 05 January 2016
You are my mind Domina Shelle.The file is amazing.
Tuesday, 05 January 2016
What an amazing and artfully crafted tour de force of sexy hypnotic brainwashing. After the recommended three listens i find myself slipping down deep nearly immediately. Over an hour later i suddenly come to feeling EXTREMELY horny and blank and emotionally satisfied. Absolutely worth listening to for those seeking to be knocked out hard and fast for a very long time. Domina Shelle is in top form as always and takes us lucky subs on one incredible ride after another.
Monday, 04 January 2016
i would have got this file even if it wasn't manditory. It's so darn good, i start listening and i find myself at the end before i know it. i suspect it's doing things to me that i'm not aware of and i don't care. i want what Domina wants me to want.
Monday, 04 January 2016
i must Obey my Domina, That's all what i think now and all what i want, Her voice is like oxygen to my brain, it's like magic, i just wish i can be at Her Feet now
Sunday, 03 January 2016
Hmmm this was awesome, i mean i don´t really know what exactly happened, i can´t remember much at all, i can´t even believe that this File was 75 Minutes long it don´t felt like this at all and honestly i don´t even think i am capable of describing this File, all i know is that it was very relaxing, that i was smiling all over and that i woke up in the end staring at ceiling in a daze, not wanting to move, not understanding what happenend, not thinking about it, not questioning anything, just staring at the ceiling in a daze accepting whatever our Princess did, i also had an incredible need to kneel before our Princess and serve her and just a few minutes later my eyes where closed again and i think i falled asleep, so yeah i am unable to describe this at all, but i know whatever just happened it was awesome, it was very relaxing and just felt amazingly good
Sunday, 03 January 2016
An amazing relaxing file that takes me amazingly deep down under Her control. i don't know what Domina did to me but it felt very very good to listen to Her voice and the way She took me so deep.. Domina can modificate anything She wishes on me this way.. an heavenly session..
Sunday, 03 January 2016
BEST FILE EVER!!!! Let's be honest - if you're here browsing this site, there's a part of you that's turned on by the thought of submitting to a beautiful woman, letting her inside your mind, and losing yourself utterly to her. This is the PERFECT file for that. Whether you're just beginning your journey with Princess Shelle, or you've been her slave for many years, this file will help you be a better submissive for Her!
Sunday, 03 January 2016
Interesting. Difficult to explain. That whispering induction was different than usually and maybe because of it, at first it felt that it's not going to work as well, but it revealed to be very effecting. I was on the edge of actual sleep and Domina's whispers were the thing that were both causing it and keeping me in hypnosis and not falling into actual sleep. I remember Domina explaining something but in my deeply hypnotized state I didn't really understand, but I probably wasn't even meant to.
Saturday, 02 January 2016
i must obey my Domina! She owns me! She lives inside my mind! She controls me! my mind has been altered once more by Her to reach an ever suggestible state to ensure that i will follow all of Her commands. i love to be brainwashed and perfected by Her as my highest goal is to be a perfect slave for Her. With this deep thought replacement therapy session i think i am more than one step closer to this goal. i need my Domina and Her control over me! A life without Her commands and thoughts in my mind would be zombie-like, i would be nothing more than an empty shell. This file is highly effective and will give Domina all power to control anyone who is wise enough to listen as you will inevitably surrender fully to Her. i embrace You my Domina inside my mind to guide and control me to please You as best as i can.
Friday, 01 January 2016
There's a whole lot going on in this epic and powerful file but the first thing I have to mention is how it easily took me to a whole new deeper level of trance than any time before. I know that's a common praise but this one was something else, it's one of the most relaxing and affecting files I've ever experienced. Once I was fully entranced by Domina I was guided through a wonderful and hot, controlling and blissful modification of my mind that felt so good I didn't even feel the longer than usual length. I love when Domina does this type of potent brainwashing programming to me, and in such a perfectly dominating and alluring style that it's guaranteed to make its permanent impact. What a great start to the new year.
Thursday, 31 December 2015
This file is awesome in every sense of the word. It's wonderful, and slightly fear inducing. No, that isn't right; by the time the file has done its job you won't be able to be fearful of the effects. I listen and I obey Domina Shelle at all times.
Thursday, 31 December 2015
i'm not sure what happened... Nothing I've ever listen to was quite like this file. I was completely unaware. in complete mindlessness. As if I were floating in space. The only sound, the only thing in my universe, in my mind was Dominas voice. I cant really say what happened. I really don't know. Domina was so deep in my mind, I never felt anything like this before. I honestly feel different now. You cant even compare this to any of Her other files. This is different. I mean its good, I loved it, I just don't know what just happened to me....lol
Wednesday, 30 December 2015
This file is my new favorite. It made me feel incredibly relaxed and incredibly good while Domina's magical voice took me deeper and deeper. I highly recommend Behavior Modification to anyone like myself, who would love to be controlled by a beautiful, brilliant, dominant Woman, Domina Shelle.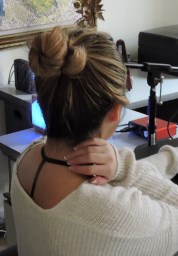 Get Updated