Behavior Modification
A compulsion...highly addictive MIND FUCK. you NEED and DESIRE to listen...
Description
Level: Powerful
Length: 60+ minutes
Category: Brainwashing-Mind Control--MIND FUCK
Sample: LINK
A CUMPULSION.  There is a need and desire deep inside you to listen...you can NOT stop it.  Be aware this file CONTAINS highly effective subliminal messages.  These messages may be unperceived consciously, yet perceived unconsciously.
The subliminal information that I will insert into your subconscious mind will modify your conscious mind, a form of THOUGHT REPLACEMENT.  Don't worry, you will NOT feel a thing.  You may not even realize what is really happening as your "HYPNO-SURGEON" does Her best work. ~~~GIGGLES~~~
Product Download
Behavior-Modification-3azo9bkw-(c)ShelleRivers.mp3
Behavior-Modification-3azo9bkw-(c)ShelleRivers.mp3
Reviews
Sunday, 16 July 2017
I totally agree! - One of the best files. My mind does feel impregnated now – I feel Her thoughts growing inside of my head and my blood is flooded with hormones of happiness and submission. I just want to drop to my knees and whisper – "Please Mistress – adjust my thoughts! Please Domina – modify my behavior – for Your pleasure and benefits"
Friday, 10 March 2017
This file can definitely be considered one of Domina Shelle's best ever. i would say it's in my top 3 favorites in my collection. It is an essential purchase if you have any interest in Domina's work.
Sunday, 15 January 2017
This is an amazing session where Domina Shelle use a whisper style induction to send you into a very deep trance - ASMR like. You will be surprised how deep you will fall and when the conditioning portion of the session starts you are so blissfully under. Domina's words will overwhelm you and be under no illusion, this file is transformative! With repeated listening to this addictive file you will see the world Domina Shelle wants you to see it and you will be very grateful for her vision of your future...
More reviews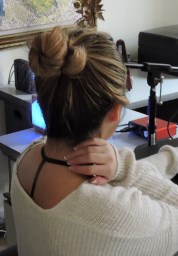 Get Updated