Tinkle
LOSE all control...
Description
Level: HARD
Length: 49 minutes
Category: Fetish
EXPERIENCE MY POWER----this is an extraordinary file.  Don't be afraid to TRY something NEW!  Push the LIMITS!
EXTREME FETISH---maybe--or maybe it is just about giving in and LOSING all control.  YES, I mean all control--you will not be able to resist what will happen to you.
Testing and expanding your willingness to obey may lead to exploring some deep seeded fetishes.
Pee. ~giggles~ What's going to happen, my pet?  Well, as I push your limits you may start with some resistance, then under My hypnotic influence, you may begin to not care what happens to you because you know it's for Me.  Then, finally, you will care and fully embrace the ending because you crave surrendering COMPLETE control to Me, as your Wicked Domina.
Towel NOT INCLUDED.
Product Download
Tinkle-8ds5pvri.mp3
Tinkle-8ds5pvri.mp3
Reviews
Friday, 15 September 2017
Domina is always right – What she has written in the description is absolutely true. I crave Her control and power over me and i find pleasure in the loss of them. Social shaping and expectations, self-image, education – is it self control? To feel the control and power rush away and to recognize Domina taking over is still the ultimate rush. The first time i was scared – my heart was beating, something I me was resisting and struggling but my conscious mind under Her guidance finally succeeded. And the clear evidence of Her power made me proud and happy. On the third repetition there was less resistance but a few session might still be needed before it will happen automatic, instantaneous and unconscious. Very extreme and very efficient obedience training – 5 busting full yellow starts!
Sunday, 21 August 2016
This session is so relaxing that it's easy to just let mind and body go. When I peed myself, I once again realized, how much power Princess Shelle has over me.
Saturday, 05 September 2015
Excellent recording. Domina made me pee myself. I ad no control.
More reviews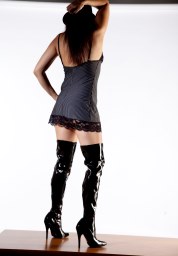 Get Updated