HYPNOTIC DOMINATION
Written by

shelle Rivers

Hits: 32

I let you rest, I allowed you to stroke and sleep and play...Now, it's time for a POWERFUL HYPNOTIC TRAINING with Dominance-A Hypnotic Brainwashing.  A perfect Hypnotic Domination of a subject, yes, you.  This is a very direct training exercise.  My natural Domination and your natural submission, all defined.  My expectations, your reactions, from My point of view.  you listen because it pleases Me.  I condition your mind on a very deeply arousing and provocative level, with this reintroduction into the world of submission.
I am not going to tell you more, it does not matter...Because this session is your COMPULSION.  you will listen, because you need this.  This session is necessary for your progression....This trance is INTENSE and leaves you OPEN to whatever I want.
Don't worry, I will not IMPLANT any triggers or do anything that you will not allow Me, GIGGLES!
~~I am making My slave Contract available.  you may contact Me to discuss it further.
UPDATE AND NEXT WEEK
I am very pleased with your positive reaction to last week's Shelle's Money Management.  I really appreciate that you are trying your very best for Me, My sweet.  Next week, I can thank you for My Challenge to Please with an update.
Our Lady Helena has some interesting news.  She now has a real pig as an actual pet that She will be feeding.  Think of that.  I wonder if She was influenced by Her experience with Her collection of guinea pigs. ~giggles~  Contact Her if you want to apply.
Can you believe she broke a spanking machine from 2000 miles away.
Contracted slaves, I hope that you loved your TRIGGER session...OH MY, so wet!
Next week I will finally bring you into the exotic world of My Crystal Ball, back to the carnival.  There is magic in O/our connection as I cast spells and weave My magic powers over your mind....where will this MIND f*ck take you.  And you will find the MIND BLOWING sound effects well worth the wait.
I will post next week's blog out in time for THANKSGIVING.  I will have a BLACK FRIDAY SALE for you, My puppy.  If you don't know, here in the U.S., the day after Thanksgiving is the biggest shopping day of the year.
Check these special deals...very strong brainwashing:
Victim of Mindlessness --
This is a COMPULSION. This is truly Hypno-NOTHINGNESS...
Focal Point --
Give yourself to Me...Enslave yourself to ME.
Mind Eraser--Zombied Blank --
Mind Confusion and complete BLANKNESS-Zombied.
Sweet Femdom Erotic Hypnosis - Brainwashing and Mind Control
Written by

Administrator

Hits: 12741
Come sample My titillating, hypnotic Videos.

Erotic Hypnosis
Welcome to Shelle Rivers Hypnotica, the place to submit to Me.  You will love surrendering to My Erotic Hypnosis.  I discovered My desire and ability to control those around Me in my early teens.  Erotic Hypnosis has allowed Me to take my Control to the next level.
You will be Mine, and I will guide you wherever I choose.
Femdom Hypnosis
Female Domination by a young Princess.  New submissives are always surprised by the power of My sweet and gentle Voice, and how quickly they become addicted to my MP3 recordings, live phone sessions and now even My personal communication exchanges.
I will slip in under your radar, softly and subtly replacing your thoughts with My words and My programming.
Hypnotic Shelle Rivers
I am a certified hypnotist.  I am sweet, sassy and sexy and sometimes firm and hard.
My area of erotic hypnosis expertise is known as "soft domme", which means that I want to enjoy the experience with you, not at your expense--well of course it is partly at your expense!  But I am expert with all forms of Erotic Hypnosis.
Submit to My Stimulating Domination
You will quickly find out how much I enjoy what I do---from my laughter (sometimes giggles), to my willingness to spend time getting to know you, your needs and desires.  Erotic hypnosis must be fun for Me, or I will simply go and do something else that is.
I hope you will join Me on this ride. I will hypnotically own you, your body and mind.  But, you can trust Me, W/we will both enjoy the experience and the journey together.

Shelle Rivers


Click and Vote daily for your Princess!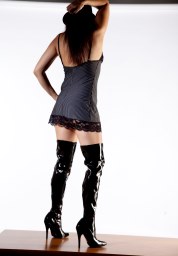 Get Updated