LOCKDOWN BEGINS
Written by

shelle Rivers

Hits: 74

Valentine Chastity LOCKDOWN
When you followed My instructions with Managed Orgasm-ASSIGNMENT you felt My sexual penetration into your mind and c*ck.  I was preparing you for Valentine Chastity LOCKDOWN, a longer, heightened, sustained sexually charged swelling of your c*ck, keeping you aroused and on edge from now until February 14th.  With LOCKDOWN I want you hard and horny all the time.  A hard locked up c*ck makes you very obedient.... you always do what I want.  That's when you are a really goodboy slave for Me.  This week LOCKDOWN begins and includes the WEEK 1 session and CHASTITY ASSIGNMENT.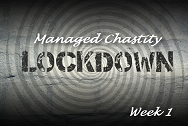 NOTE:  COMPLETE your 3 day orgasm assignment before Listening to LOCKDOWN---your lockdown will start after your 3 day assignment which you are allowed to do in fewer days. ~giggles~
IF YOU ARE NOT participating in (CHASTITY) LOCKDOWN you may purchase Managed Orgasm - JOI Assignment #1 in New Releases and Obey. (If you are doing LOCKDOWN, you have this session already)
Listen to My voice taking you to a place where psychologically you need to be under My control.  Where your desires are dictated by My will and desires.  Obedience to Me is your pleasure.  Making Me happy is your pleasure.  It works out so well. ~giggles~  you are sensually and sexually Dominated, pent up in a state of submission and intense arousal.  The longer in Chastity the harder you feel, eager and willing to do whatever it takes to please your Princess and give ME the pleasure I get of keeping you in Chastity.
With this LOCKDOWN- I have weekly task assignments to keep you hard and focused, PLUS every week until Valentine's Day there will be a NEW Chastity HYPNO-BRAINWASHING-MIND CONTROLLING session and accompanying weekly Assignment.
To strengthen your commitment and ACCOUNTABILITY to Me, I am putting CHASTITY OFFERING in Special deals.  My puppy, if you disappoint Me and have an accidental release, you will redeem yourself with a Chastity Penalty, and then you will get right back into chastity for the duration.  Awww, you think that won't happen...I can't wait to see how long you will last. ~~~GIGGLES~~~
UPDATES AND NEXT WEEK
Watch for My more instructions and updates on Twitter....For Contracted, SFS Calendar will mostly reflect each week's Lockdown Assignment with a few additions.
Next week, if you absolutely can manage only 1 week in Chastity, you are REQUIRED to Email Me for permission to release.  Put RELEASE PLEASE in the heading and I will give you permission with MY instructions to c*m for Me.  But try just one more week......
My special deals include Chastity and other files for your pleasure ...
Sweet Femdom Erotic Hypnosis - Brainwashing and Mind Control
Written by

Administrator

Hits: 13259
Come sample My titillating, hypnotic Videos.

Erotic Hypnosis
Welcome to Shelle Rivers Hypnotica, the place to submit to Me.  You will love surrendering to My Erotic Hypnosis.  I discovered My desire and ability to control those around Me in my early teens.  Erotic Hypnosis has allowed Me to take my Control to the next level.
You will be Mine, and I will guide you wherever I choose.
Femdom Hypnosis
Female Domination by a young Princess.  New submissives are always surprised by the power of My sweet and gentle Voice, and how quickly they become addicted to my MP3 recordings, live phone sessions and now even My personal communication exchanges.
I will slip in under your radar, softly and subtly replacing your thoughts with My words and My programming.
Hypnotic Shelle Rivers
I am a certified hypnotist.  I am sweet, sassy and sexy and sometimes firm and hard.
My area of erotic hypnosis expertise is known as "soft domme", which means that I want to enjoy the experience with you, not at your expense--well of course it is partly at your expense!  But I am expert with all forms of Erotic Hypnosis.
Submit to My Stimulating Domination
You will quickly find out how much I enjoy what I do---from my laughter (sometimes giggles), to my willingness to spend time getting to know you, your needs and desires.  Erotic hypnosis must be fun for Me, or I will simply go and do something else that is.
I hope you will join Me on this ride. I will hypnotically own you, your body and mind.  But, you can trust Me, W/we will both enjoy the experience and the journey together.

Shelle Rivers


Click and Vote daily for your Domina!





Get Updated