Shelle's School 801 - A Lesson In Chastity
The Eighth in the series of Shelle's Classroom files---Lesson: CHASTITY.
Description
Lesson: CHASTITY - Taught By Professor Shelle
Category: Shelle's School For men-Chastity
Level: Hard--yes, you will be VERY hard
Length: 49+ minutes
Sample: LINK
Open enrollment for this class---this means even if you are new to MY teaching you must CUM to class.
It's BACK TO SCHOOL---classes being taught by: Professor Shelle Rivers.
Come on in, take a seat and prepare for a very SEXUAL lesson in Chastity.
This class will give you a complete understanding of the state of chastity and explain its importance in a man's life.  Yes I will change your mind about chastity...I'll have you begging to be horny and aroused all of the time.
Now don't be alarmed if you become aroused...your Teacher may even have you stroking as She speaks.
Yes the term "Hot For TEACHER" will take on a whole different meaning.  This Teacher will blow more than your mind.
NOTE--Don't underestimate the lengths you will go to for Me when you are HORNY. ***Giggles***
Product Download
Shelles-Classroom-Chastity-bi4e9lwa.mp3
Shelles-Classroom-Chastity-bi4e9lwa.mp3
Reviews
Tuesday, 04 July 2017
Chastity is explained in a very sexy way. Mistress Shelle does a great job of explaining the importance for chastity. I would think this file is extremely important before diving into chastity.
Saturday, 19 December 2015
Yep i guess i need to look over every File i have and see what i have reviewed, don´t know how this happened but it looks like i haven´t reviewed a few Files...Oh and well i don´t know why i am writing here what i am thinking...Anyway this File is honestly one where i can´t even remember why i have them, but i think it´s one Princess gave to the earlier times where i started to fall for her and i am quiet happy that i have this File and i do love to relisten to this every here and there again, cause it´s just awesome to see how well she knows how Chastity works, how easily it is for her to take even more control over me this way and i just can´t deny this, every words she speaks is the truth, but not only this, in this File she also demonstrates how easily she can get you to say Yes for her to anything, just because...well you will find this out on your own, if you like the Idea of Chastity, to lose control to a lovely Person as my Princess, then there will be no way for you around this File, it´s a must for everyone who likes Chastity, even the ones who are curious about Chastity should listen to this, cause this File will quickly let you see if you are into it or not and as opposed to most of the other Chastity Files that may will addict you or make you beg her for Chastity this one is how do i see this more vanilla? If you listen to this and are into Chastity you can go and listen to other Chastity Files of her, while if you should not be into Chastity you simply can stop right here, it´s like she is giving you this choice her, that you might not get on some other Chastity Files hope this makes sense
Thursday, 10 September 2015
I love when Domina Shelle really gets into my slave psyche like this, it's so good to know my mind is in such capable hands. She conditions and persuades with relentless dominance, it's all so right and a joy to listen along with as She guides me to where I truthfully should be. Serving Domina moves to a special higher place when I know my own place, and horny and begging are where I live to be.
More reviews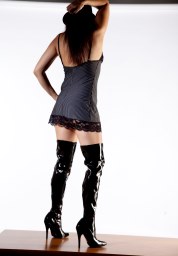 Get Updated