My Chosen slave
"My Chosen slave"---words that arouse all your "senses"
Description
Level: Strong
Length: 91 minutes
Category: Brainwash-Mind Control-Erotic
Sample: LINK
Welcome my pet----I have a treat for you---a file called "My Chosen slave"---words that arouse all your "senses" ***Giggles***  The thought of being taken by Me is irresistible--isn't it!  Listen to a small sample, then buy the file and prepare to be TAKEN--who knows what wicked things I will do with you---giggle.
Lay back with little or NO clothing...settle in for a long deep trance....if you would like the shorter version, just send Me a note.....
Fall for Me, you are Mine forever, I have chosen you!
Product Download
My-Chosen-slave-w9lzh2rj-(c)ShelleRivers.mp3
My-Chosen-slave-w9lzh2rj-(c)ShelleRivers.mp3
Reviews
Thursday, 07 July 2016
The second longest recording from Princess Shelle (wild ride is slightly longer), kidnapped bring you deep inside Shelle's world. A world where pleasure is the absolute priority. That recording begins with what I think is the longest induction I have heard in the femdom hypnosis community. Maybe around the first two tierce of the recording is an induction. As Princess begins to speak, I feel instantly, at ease, relaxed and aroused. And my mind, accustomed to her voice, listen to each words as they fade away at the deepest part of my soul. I could listen to her, for hours and hours. And even the length of the recording, it never enough for me. I want always to hear more, to taste each words she said inside my mind. She begins to speak, to let you feel her obedient for her, by the use of words like "puppy" or "goodboy" those words that I crave to hear, and make me so weak. And when you think that you are the deeper you can go, you go even deeper. Her alluring voice so seducing guide you gently into sleep. She is very caring and kind. Almost forgetting, that in her sweet voice, some evil suggestion of obedient are implanting. And finally, I enter in her world. A world where I am kidnapped, and turn into a brainwashed slave. What I can say, about this part. It's she's not only a great hypnotist, and a powerful dominant women but also a great storyteller. The scene, the texture and the ambient noise of the scene, I can feel it, exactly was I was here. I was totally living in her world, owned and dominated. I won't give you a description of the scene, but if you liked elaborate story like "wicked Princess" or "Black Magic Woman" you will love this recording. She improves herself, with each recording, and it's better than the two previous ones who were amazing. And know that she knows to turn a beautiful (but naughty) fantasy, into a really powerful brainwashing file.
Tuesday, 05 January 2016
wow.... this file felt like it was made just for me - a perfect fantasy! An incredibly deep trance, by the end i was completely helpless - unable to move, think, respond or ANYTHING without Domina's help. then Domina took me and fulfilled one of my deepest fantasies! i can't wait to listen again (and again, and again)!
Tuesday, 27 December 2011
Being abducted and at the mercy of a dominant Woman is a long time favorite fantasy of mine. Mistress-Princess Shelle has given me the experience through this beautifully crafted file. The long induction rendered me completely happy and helpless, and ready to enjoy as Princess launched Her plot. Enjoy being the keyword here. True to style, Princess Shelle not only delivers the story, but quite naturally seizes the opportunity to carry out some wonderfully strong and delicious (therefore effective) brainwashing. 90+ minutes may seem very long, but what better way to spend the time than tranced by Princess, floating on Her beautiful voice, being trained and dominated in that sweet but wicked way i love so much? If there were a sequel i'd loop them back-to-back...
More reviews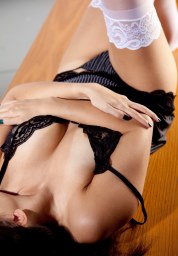 Get Updated