Mistress Of Minds
Imprisoned within My world...be careful what you wish for....
Description
Level: Strong
Length: 45 minutes
Category: Erotic Fantasy-Brainwash-Mind Control
I am the Mistress of Minds.
This file will reinforce the power that I have over your mind.
It will entrap you and make your mind My domain.
You want your mind to belong to Me.
There is an overwhelming need that you have for Me to completely control your mind.
Gently drawn in until it is too late...there is no escape....no way out....your mind is Mine.
You will yearn to please and obey Me.
Completely subjected to My will and My commands.
I am the Mistress of your Mind.
Take off your clothes...get cozy and warm...and experience the passion of ME.
My use of Binaural Beats, 3 D and enticing music will leave you desperately deep in TRANCE.
Product Download
Mistress-Of-Minds-vfor5plx.mp3
Mistress-Of-Minds-vfor5plx.mp3
Reviews
Sunday, 25 September 2016
This is another File where i can´t tell what exactly happened, i listened, i falled deep, i falled asleep, i woke up towards the end not knowing what was going an, all i knew and still know is she surely is the Mistress of Minds, atleast she is the Mistress of my Mind, i may don´t know what exactly happened, but deep inside i do know that she owned me once again :P

JJFeeder
Sunday, 25 September 2016
Dreamy feeling after listening this. i went so deep. Captivating story that was told so well by Domina. Really felt like i was there. Highly erotic.
Saturday, 04 April 2015
Relaxing as always my Domina took me down easily into trance where my true reality awaits me. Maybe someone might think that She tricks You into something here, but to be honest i'm glad that the file has a twist in it that restores the normal order in my life. She is the Mistress of my mind, my beloved Domina. i will obey Her forever and do anything She commands me to do, for She has enslaved my subconscious and conscious mind. Again i feel so much closer and more in love with Her. Thank You my Domina for these wonderful feelings.
More reviews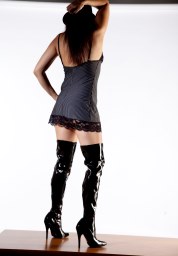 Get Updated