Mind Dominance
My voice will slip inside and before you have a chance to stop it, you will be HOPELESSLY trapped by your own desires and wishes.
Description
Length: 48 minutes
Category: Brainwash-Mind Control-Erotic
Warning:  This session will change something inside you, for most listeners.  you will be HOPELESSLY trapped before you have a chance to stop.
You saw the warnings, right?  Maybe you thought they were put there for hype or for show?  Think again, My puppy, and heed them.  After all, it is right in the title, Mind Dominance, and your Domina is not kidding.  This is possibly the most POWERFUL session I've created...it's very SNEAKY.  Borrowing a line from Eric Clapton, this file will be "carving deep blue ripples in the tissues of your mind" and you will be loving every second of it.
It won't happen by brute force but with sweet seduction.  I will ask you to come closer, I'll whisper into your ear, and invite you to breathe in My very essence to become hopelessly intoxicated and forever trapped by your own desperate wishes.
NOW go and listen...This is a Compulsion.  you already know what that means, I have decided for you.
Product Download
Mind-Dominance-(c)ShelleRivers.mp3
Mind-Dominance-(c)ShelleRivers.mp3
Reviews
Thursday, 08 June 2017
What happens when you let Domina Shelle into your mind again? she reduces you to a drooling content mass while making you so aroused it's not even funny. you can feel Her seduce you, and carve a little home, and folks I don't think she's leaving my head any time soon.
Wednesday, 31 May 2017
This file is pure gold. I've just listened to it and I can confirm it's really really really powerful. And I bet you will listen to this file over and over because it's so amazing, freakin brainwashing you...
I could cry with joy and I'm in love with my Domina... she really made me desperate after listening only once.. I'm a little afraid what will happen after the second time listening to this file...
Friday, 19 May 2017
I love this file. The effects have grown with each listen and it has addicted me to Domina's words even more. By the end of the file, i wake to an arousing feeling that makes me want to go back and listen again...almost to the point where i don't want to give my time up to another file. I wish i could figure out what's in here that makes it sooooo powerful so that i can bottle it up and take a hit whenever i want.
More reviews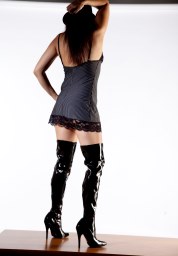 Get Updated