Fatal Attraction
EXTREME and DEVASTATING---POWERFUL and EROTIC
Description
Level: POWERFUL
Length: 69 minutes
Category: Brainwash-Erotic
Sample: LINK
A BRAINWASHING MASTERPIECE--- Devastating---Mind Boggling----PROFOUND---EROTIC--- and a trance into complete blackness...a must listen.
I have progressively conditioned your mind.  This file programs your mind further for its destiny as My mindless slave.  My intoxicating voice will have you, My puppet, dangling from countless Permanent unbreakable strings, strings of My control, powerless to resist.
Did you know a simple decision can change a person's life forever?  In some cases such decisions can be fatal (lasting forever).  You won't even realize it until it is too late to turn back...Just like NOW---
Let Me demonstrate...
You can't help but continue your journey with Me, you need this, you need Me, because from the first time you let Me into your mind it was already too late...your fate was sealed, it is a Fatal Attraction.
Now come to Me and listen to this brainwashing file now.  Just say "yes Mistress/Domina i will obey".
Good boy.
A LONG slow BRAINWASHING--- MIND F--k---Possibly My most POWERFUL yet.
Product Download
Fatal-Attraction-mc04aysp.mp3
Fatal-Attraction-mc04aysp.mp3
Reviews
Friday, 22 September 2017
One of the absolute deepest trances I've ever experienced. You are left into a submissive puddle,a lump of clay that our Domina molds to her likening.
Monday, 24 April 2017
This session took me so extremely deep, I totally lost sense of time. It never felt like spending more than one hour in trance. I loved, how it felt to be Domina Shelle's puppet on a string and the mind orgasm she gave me felt so wonderful and real.
This is definitely one of the strongest files I have listened to.
Wednesday, 10 June 2015
I first listened to Fatal Attraction relatively early on in my journey with Princess Shelle. Much as I enjoyed it back then, the idea of her being literally my fatal attraction seemed like harmless and enjoyable fantasy but little more. Now I'm further down the track this file has become utterly mind-blowing. More obedient the further I fell into trance, I felt more pleasure the more obedient I became and then obeyed commands to go even deeper... Today I was alone in a world with a single voice. The experience was mind-blowiing, intense, irresistible, physical as much as mental. I found myself squirming in erotic delight, desperately trying to surrender yet more of my mind in order to experience even greater pleasure. Two files in particular (Master Conditioning and Altered State) seemed to do most to make this possible but I suspect any combination of Domina's brainwashing files will achieve similar results in time.
More reviews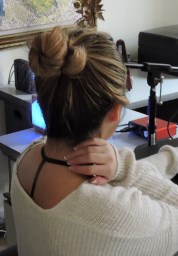 Get Updated