Chastity Lockdown
Join Me in full CHASTITY. Make Me happy and I'll keep you HORNY...
Description
Level: Extreme
Length: 40 minutes
Category: Chastity
Time for LOCKDOWN!
Submit to Me, not knowing how long I will keep you in Chastity.  All that cu**ing and look at you, My submissive pet, you are not happy.  I know what you crave.
I don't think that you need to be talked into chastity.  you are ready for it, your c**k must be sore from all that str*king and cu**ing.  I know what you need.  NO MORE cu**ing, not until I'm ready.
***My puppy, doesn't it feel so good to be HORNY all the time...just think about how submissive you feel when you are aroused by Me.  It feels so good to be swollen and OH so HORNY for ME...It makes you so much sweeter too....and it PLEASES ME!  Listen for Me now.  Accept My Chastity.
Product Download
Chastity-Lockdown-lfw8nec6-(c)ShelleRivers.mp3
Chastity-Lockdown-lfw8nec6-(c)ShelleRivers.mp3
Reviews
Tuesday, 27 December 2016
This is an amazing session for all those who wish to surrender to Domina in a more intimate manner - through Chastity. If you desire to be c then this file is a must because through c. Domina Shelle owns me and I will obey her forever!
Thursday, 14 April 2016
I was always lacking the willpower to stay chaste, but after listening to this file for a week, I'm enjoying the constant arousal a lot. I'm curious, where this path will lead me... Being obedient and horny for Domina Shelle feels so good!
Friday, 08 January 2016
i don't know how long Domina will keep me up in this but the last days i heard myself even begging for it. And now.. i don't know anything, just listening to Her voice gets my mind into a pink cloud of happiness and i just want to obey and be Her good boy..
More reviews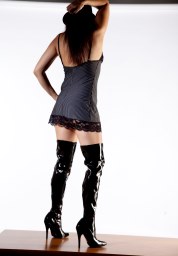 Get Updated