Chastity Lesson 5--What you WANT
Chastity Lesson 5 - What you WANT
Description
This TRAINING will leave your body and mind a total sexual wreck.
Can you imagine… your c**k throbbing… so stiff… so hard… building up and up to that perfect climax… like a hypnotic wet dream… naughty thoughts of submission sinking into your skin as you grow harder and harder… so full, so thick, so ready to burst… wanting to c*m… wanting what I want… wanting to explode… unable to move… feeling the need consuming you… pulsing through you… so hungry for release… so hungry and horny… feeling it twitch… imagining it start to dribble just a little… feeling that little wet drop of pre-c*m at the head… you want it My hypnotized paralyzed slave… Your body wants to c*m… you body is too weak to hold back… your body is betraying you… you want this…Don't you!
Before you listen, I want you to lay back and just think about how good you feel.  I mean with your b**ls bulging against your pants, dripping even NOW.   So swollen that you feel the engorged flesh, feel the pulsating.
Isn't that so sexy, so hard and HORNY and it's all for ME.  Yes, for your devotion and sacrifice to your Domina, but just look at what I have done for you, to you. ***GIGGLES***
Yes, all as a part of perfecting you...this is what you want, what we want.
When you listen to this file---experience My words fully.
Product Download
Chastity-Lesson-5-What-you-WANT-sch5j9or.mp3
Chastity-Lesson-5-What-you-WANT-sch5j9or.mp3
Reviews
Tuesday, 04 August 2015
Be careful what you wish for, as this is the real thing. On the first few days, I was horny and loving the tease and denial... but a few days later I was avoiding this. Not knowing or caring why. On day 8, I had a wet dream. Something I haven't had in years. I'm still not sure if that is failure and I have to start over, but I'm sold. I will do whatever Mistress Shelle instructs me.
Monday, 27 July 2015
You will be given a choice. No matter what you'll choose, you'll enjoy it. Trust me! Trust in Domina Shelle! This was an amazing series.
Saturday, 10 January 2015
What a file! What a series! The result is independent of the way you may use, you will be more deeply under Domina's control. When I first started the Chastity series, I haven't tried this before. What a mistake I was doing... This is one of best experiences I have ever had, something that come and out of the blue hit me hard. Even having a weak body, Domina was able of strengthen my mind (or should I say her mind) enough to resist the urge and continue in my path for being her perfect slave. I'm totally obsessed with Chastity and being her perfect slave. It's so good to be owned by Domina Shelle.
More reviews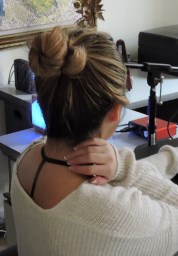 Get Updated