Chastity Lesson 2--Permission
Chastity Lesson 2 - Permission.
Description
Don't you LOVE it when I put on My sexy teaching VOICE ...More AUTHORITATIVE and DEMANDING!  So wicked when I am teaching you a lesson about your submission and COMPLETE chastity to ME!
Giving you even MORE PLEASURE and teaching you the TRUE meaning of permission.  HARDER and HORNIER with ME every day, with NO c**ming in sight ***GIGGLES***
This is the second of 5 lessons in your NEW Chastity TRAINING Lessons---- surprises along the way (Free GIFTS of teasing and NAUGHTY ASSIGNMENTS that could cause an EXPLOSION).
Be sure to start with Lesson 1 before beginning this Lesson.
Give Me all control of your c**K...and of course your mind.
If you fail, I will even allow you to start over, after paying your chastity penalty.  I'm so good to you!!!
Product Download
Chastity-TEASE-2-blp9dg4d.mp3
Chastity-TEASE-2-blp9dg4d.mp3
Chastity-Lesson-2-Permission-efsi3vmq.mp3
Chastity-Lesson-2-Permission-efsi3vmq.mp3
Reviews
Thursday, 16 November 2017
I'm not sure what is going on in this session as I became very confused and couldn't keep up with Her words. I've listened to it 6 times already and I'm still not sure what it's all about. It certainly brought me deep...so deep in fact that i have no utterly idea what was even said. Somehow it doesn't matter as the after affects have been so arousing that I can't keep my hands off my c**k.
Wednesday, 29 March 2017
Chastity is amazing. It serves as a constant reminder of Domina's control, and conditions the subject to cooperate in his own enslavement. i've been training with this file recently, and each time that i listen it gets easier and easier to give Domina Shelle permission to control my orgasms...or is She giving me permission not to cum? It doesn't really matter...all that does is that i obey.
Sunday, 28 June 2015
Princess delves deeply into the idea of permission, and what kinds of permission there are, and how pleasurable they can be. She certainly demonstrates all the kinds of pleasure you can have under her hypnotic control, and explains why being chaste for her is such a good idea. You will not disagree with her either:)
More reviews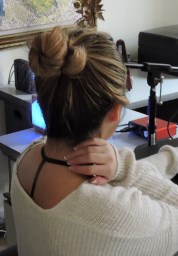 Get Updated