Buy My Panties
Have a SPECIAL part of Me...Breathe in My scent and become MORE enslaved to ME!
Description
Have a SPECIAL part of Me...Breathe in My scent and become MORE enslaved to ME!
Once you have purchased My panties, email Me for DETAILS and a safe place for Me to send them to you.  Packaged discreetly.  For extra WORN panties contact Me for details.
To ADD My "Addicted To Panties" MP3 see My other listing.
Kisses
Product Download
Addicted-To-Panties-TEASER.mp3
Addicted-To-Panties-TEASER.mp3
Reviews
Monday, 23 January 2017
I'm the happiest slave on earth, because I received Princess Shelle's panties today. Her scent is wonderful, so erotic and intoxicating. I want to smell it all the time!
Monday, 22 August 2016
i never thought i would say something like this, but oh my i sooo love to bath in her scent, letting my mind get lost, swimming in euphorie, so so so happy to have a Part of her near me...No seriously as soon as i took her scent in for the first time i just got lost, my mind melted away, sooo mindless for her and by now this happens every single time i do it, i am simply addicted to her Panties and Scent and well yeah i never thought a pair of Panties could mean so much to me, but since this are hers, i just can´t do something against it, i have to adore them every single daym because i know they are a Part of her, adoring the Panties with her Scent kinda is like adoring her...ok now i start to think that i sound silly, so i better stop talking about this lol
Sunday, 15 November 2015
Waiting for Domina's panties to arrive is almost excruciating but when they finally arrived it felt like Christmas to me. Domina Shelle is the most beautiful, sexiest woman in the universe so having something that was wrapped against Her amazing body is just the hottest thing ever. Her scent is intoxicating, and knowing it was so close to Her, well these definitely turn my fantasies of Her up to the maximum. It's not something I'd ever considered before, but with Domina my feelings and cravings are overwhelming, and I love it.
More reviews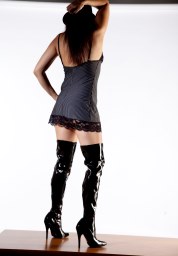 Get Updated