Brain Chip - Implant
The first of three sessions of My "Brain Chip" mission. This SEXY CONTROL CHIP is ESSENTIAL and absolutely necessary to your training.
Description
Length: 37 minutes
Sample: LINK
Like a mad scientist with a mission, I having been perfecting My brain chip.  I am sooo excited, I'll soon have My very own Human Android. ***GIGGLES***  This chip is ESSENTIAL and absolutely necessary to your training...without this chip you will not be properly programmed.
With this session I will Implant the chip.  Once Implanted it can never be removed.  I will have full access and able to activate the control chip at all times.  I will track you and place programs into your brain whenever I want.  This is going to be so sexy.  My panties are wet, just thinking of all the insane things that I will do to you.
This is the first of three sessions included in this mission.
This CHIP is ESSENTIAL and you must act with urgency to listen.  This is a COMPULSION.
Note:  If you have not yet listened to Journey To Enslavement do so.  Although not pre-required listening, the series is a perfect cocktail to this mission.
Product Download
Brain-Chip-Implant-(c)ShelleRivers.mp3
Brain-Chip-Implant-(c)ShelleRivers.mp3
Reviews
Saturday, 27 May 2017
At first, the description of physical events seemed almost corny. By the end of the session, everything was performing as commanded. It feels great when Domina's programs simply work - as most do now.
Friday, 14 April 2017
I keep thinking that after all these years Domina couldn't possibly take more control of me, and then She does. I don't remember much about this file other than I know Domina placed something in my mind
Wednesday, 05 April 2017
The more i listen to this, the better it gets. i need Domina's control more and more and this helps to satisfy that. i am happy to have HER control chip implanted. i highly recommend it to everyone.
More reviews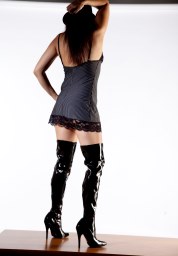 Get Updated