My Blog
Written by

Administrator

Category: Blog
OMG, wasn't that fun?  I mean "DOPAMINE"... What a total mind F**KING blurr.  Yes, My power is growing.  My will is taking over your will, and soon it will be what I want and NOTHING less.
So, you want to know more about ME...well, here is a taste---
I am a Southern girl, I mean a REAL southern girl...and I like it HOTTTT! I grew up on a cotton farm in West Tennessee with 4 siblings... 3 sisters and 1 brother.  I love our family farm and can't wait to make it My own. Even though my life is in North Carolina, I long for home...back home, near Memphis Tennessee.
I moved to NC for Nursing School, which I have now completed.  The year that I was to be off to college, My brother was killed.  So guess what, my parents decided that they could not let me go. Not alone anyway.  So imagine my surprise when I find out my Mommy and daddy bought a house only 20 minutes from school.  Now I can stay at home and be close to them...and give up on living in my own dorm room or apartment, haha.  There goes my life outside my parents.  I agreed because I knew how much pain they had experienced with the sudden loss of my only brother, their only son.  So, here I am still at home. I live with my daddy now. My mother died about 3 years ago with breast cancer.  Don't be sad, she had an amazing life... we all did.  I cherish the memory of both my best friend (my brother) and my Mommy (my inspiration).  We have a family so close that everything we do revolves around our families needs.  That's where I get all of my LOYALTY.
I graduated Nursing School and work weekends as a Trauma Nurse.  The rest of my time I spend here with you f**king with your mind and, of course, your body (c**k).  giggles
I care for my daddy (who is sometimes a PAIN in my sexy butt) with some help from 2 of my sisters...the third still living in Memphis.  My life is quite an adventure...as I love to stay on the go.  I live a full life---so much more to tell you in my next blog.  For now know that I am rearranging My life to do what I love. I will make more time for you... for My family, and let's not forget my belly dance classes (I instruct 3 lessons per week).  Plus I run...and run and run, and kick box.  Don't mess with me!!!  I'm a small and POWERFUL package!!!  My power is over your MIND----you make it sooooo easy.  **giggles**
Ok, there's a little taste of my background.  Stay tuned for NEXT week's "Soap BOX Saga".
Now---you will NOT believe what a HUGE surprise I have in store for you, MY Valentine---yes, you!  I have never been so excited to INTRODUCE something like this --- it's an all NEW EXPERIMENT with your mind.  Details CUMMING SOON.
This week's RELEASE--- the file is a RELEASE for your ****.  haha.
Mind TRAP---yes, it may sound familiar---but when you listen you will NOT feel the same.  This was one of My all-time favorite files!!  I have now absolutely PERFECTED IT!!!!   I've turned this session into a MIND BLOWING EXPERIENCE---do NOT miss it.  I am so excited to introduce you to my latest PERFECTION.  Your Princess has really flourished.  So much so you need to STOP right now and applaud ME, your Domina. **giggles**  I am AMAZING, you tell Me that all the time.
THE Contract---What more can I say----Your response of needing to take care of Me and give more time to Your QUEEN, has PLEASED Me GREATLY!  Check here to make things easy for both of us...
http://www.shellerivershypnotica.com/slaves-only/view-all-products.html.
Surrender M
Check My updated special deals ...
Hot For Teacher --
Listen and OBEY--you already know that you can NOT resist Her...She is Teacher...and you are HOT for Teacher.
MASTER Conditioning --
Conditioning your Helpless mind to serve ME better.
Written by

Administrator

Category: Blog
Dopamine is compulsory to purchase........
because it comes along at the perfect time in your continuing slave training sessions.
The neurological transmitter Dopamine helps control the brain's reward and pleasure, it helps regulate movement and emotional responses.
You not only see the rewards, but also, become compelled to pursue them.  My voice has complete control of the neural drug dopamine in your brain.
My voice and my words are your addiction and they cause dopamine to be your addiction.  Through this drug I give you habitual addictions.
You will feel compelled to pursue your rewards in the pleasure that comes from what you can do For ME.
I am preparing you for a more direct and easy path of submission and obedience to Me, your Mistress.
My control of dopamine in your brain makes submission and obedience to Me pleasurable and addictive.
and it gives a more direct path to live your life of subservience and devotion to Me, your Domina; a more direct path to come to Me, by sustaining your addiction to ME and making it habitual.
I will use Dopamine with my voice and words to have you, willingly, surrender what is mine, your mind, for its demise.
From now on I will gradually reconstruct your mind so that your reward and pleasure centers will, actively, seek out what is best For ME.
I'm always testing the progress of your training.
I want to see if you know your purpose in service by anticipating how you can please Me, and make Me happy.
Will you pursue taking good care of your Domina, because you know that is best For Me?  I know you will...giggles
Check out Dopamine testimonials.
My special deals this week...
LUST IN THE DARKNESS --
Come, find yourself lost in My web within a web...
Punishment - At My Mercy --
Punishment or Pleasure.
Written by

Administrator

Category: Blog
Can you imagine an even better year ahead for both of us, together?  That is what I am planning with the introduction of My slave Contract.  You can trust Me.  You will not be disappointed, as long as you don't disappoint Me.~giggles~
Your commitment will give Me more time, dedicated to you and your continued training to become My Perfect Slave, to Love and support Me, to serve and obey Me, and to reap the benefits of My commitment to you.  This is the opportunity for us to get even closer, your opportunity to demonstrate your loyalty and devotion to serving Me, as your Domina and Mistress.
I have something special to fit your needs and satisfy My plans for your development.  So, after you purchase the contract, email Me for your PERSONALIZED enslavement to Me, with your willingness to surrender all control and sacrifice all of yourself to Me.  Think of the contract, also, as the opportunity to "formalize" our current relationship.
Accepting the contract is voluntary on your part, but it would please Me, and we both know that is what you have always wanted.  It's JUST the next step on this amazing Journey---ONLY when you are ready.
UPDATES:
I am still PERECTING Dopamine----YES, I know that you can't wait for this one.  Don't worry, it will be available NEXT week.
Also coming NEXT week is a LOT more about ME and how I spend My days.  I have a LOT to share.  I know that you want to know all that you can about your Domina.  I always give you what you want, don't I.
Now for this week's RELEASE---a sexy PLAYFUL tease and DENIAL---Slave Puppet...Yes, I control your body with My words...I mean every part.  you may even find yourself kneeling at My sexy feet. ***giggles***
Surrender K 3.
Check NEW RELEASES for a VERY intense FETISH file---Now if you want to LOSE all control...I dare you to listen. (READ DESCRIPTION CAREFULLY)
Special DEALS ...
Trapped - The Dark Queen --
It's time to make a little visit to your "Dark Queen".
Brainwashed-Complete Control --
I am a Dangerous Domina-Mistress...and this is a DANGEROUS file. ***Giggles***
Written by

Administrator

Category: Blog

I'm almost finished with your next TRAINING session.  I'm so excited as it moves Us/us one step closer to where we need to be.
The NEW session is called "Dopamine".  Do you know what Dopamine is---read this description closely before deciding to purchase the file.
Dopamine:  Dopamine is a neurotransmitter that helps control the brain's reward and pleasure centers.  Dopamine also helps regulate movement and emotional responses, and it enables us not only to see rewards, but to take action to move toward them.
The presence of a certain kind of dopamine receptor is also associated with "risk takers."
Are you ready to take a little risk, I know you are because this excites you.  Heck, you are probably hard already just thinking about what I might do to your brain now. ***GIGGLES***
Yes, I will give you permission, you will want to listen...and don't worry, I always know what I'm doing, even if you have NOT a clue what is happening inside your mind.  It's OK!  Perfectly NORMAL.  Trust Me, I'm a Nurse and of course, a very talented Hypnotist.
Surrender---B
I am so EXCITED about the NEW slavery CONTRACT that I am preparing for you.  This will deepen Our/our relationship and commitment to each other, sealing our COMMITMENT as OWNER and slave.  Just think, your giving ME what I want with NO regrets and it will be in writing.  I'm soooo happy... Just thinking about your signing My contract sends little tingles to My panties.  Be sure to check HERE often, I will be updating with MORE details as to how you will sign MY slave CONTRACT.
Check out My new payment options.
My Special Deals this week ----
Hypno-Sleep --
Deep Penetrating Arousing Sleep.
No Recall --
You will have NO memory of what I'm about to do to you.
Black Magic Woman --
68+ minutes of Erotic MIND NUMBING Hypnosis. Under My Spell you will never be the same...

One QUESTION---Are you interested in just how I spend MOST of MY days.  Do you want to know more?
Kisses
Written by

Administrator

Category: Blog
First, I want to say how pleased I am with your reaction to My Chastity series. Reading such positive comments has been very gratifying for Me. Remember, I am trusting those that didn't make it, to send Me your Chastity Penalty. But more importantly, as I instructed, you owe it, not only to Me, but also to yourself, to try again. When you get there, my loyal slave will find a greater pleasure in your obedience, devotion, sacrifice and service to Me, Your Domina and Mistress, than in that temporary pleasure of an orgasm you couldn't control. Obedience is pleasure.
Last week I said there is so much to do in 2015. Exploring this theme is high on the agenda. I feel more Wicked and will be testing you more. I will continue my training of helping you find that greater pleasure through a deeper level of service and sacrifice. I will test your outer limits of obedience and devotion. You are going to be so HARD for me. Let's see how desperate you can be for your Domina... I'm looking forward to 2015. How about you?
Listen to My new file DEJA VU ...
It's deja vu, all over again...I'm too young to remember that. But have you ever experienced deja vu? Maybe you visited some place and stopped for a moment and said to yourself, "This is so familiar. Really? I feel like I have been here before, but it doesn't seem possible". Sure, it happens to all of us, and sooner than you think, you will be experiencing many more of these thought distortions. ***GIGGLES***
There are several possible explanations for the phenomenon of deja vu. One is the occurrence of "cryptomnesia", which is where information learned is forgotten, but nevertheless, stored in the brain. Then, similar occurrences invoke that contained knowledge, leading to a feeling of familiarity because of either the situation, event or the emotional content. Voila, "déjà vu".
Some experts suggest that memory is a process of reconstruction, rather than a recall of fixed, established events. This reconstruction comes from stored components, involving elaborations, distortions and omissions. Very interesting isn't it?
Well I want you to listen to my voice and just TRUST me. Trust me while I play and f**k with your mind once again. Omit this. Elaborate on that. Did you forget something? You get the picture... This is going to be fun...and just think you may or may not even know what has happened, or if it happened at all. Sometimes through these distortions reality gets confused with fantasy. After all, fantasy and reconstruction of your brain is what I do best.
Notes----
Don't forget Valentine's Day is coming up... ***GIGGLES***
Have you signed a slavery contract yet?
If not, it is the time. (DON'T miss out on PLEASING ME) I want your COMMITMENT in writing!!!

I appreciate the devotion you have shown Me with your contributions toward my car debt. I am now more than 33% of the way finished. It will be a relief to me, give me some breathing space, and lessen My workload. By next week I will adjust the amounts so it is a less painful sacrifice, But I want to be finished with it soon in 2015.
If I have NOT said thank you for your wonderful Xmas gifts---it's because it came without a name---PLEASE let Me know!
NEW SPECIAL DEALS ---
Surprise Surprise --
A very NAUGHTY, fun and SEXY Tease & Denial file.
Time Regression --
Dangerous little Princess is your guide through Time.
My Entrancing Eyes --
Become Entranced, fall into MY HYPNOTIC eyes...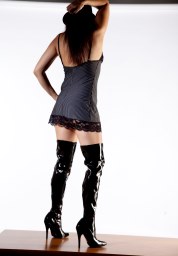 Get Updated