My Blog
Written by

Administrator

Category: Blog
My loving slave, I want to thank you for the many expressions of concern, the gifts, and wishes for My speedy recovery.  your Domina Shelle has recovered.  Yipee!!!  It took a while, but it gave Me time to plot, I mean plan, for your future training and enslavement.  I have had to delay this, My pet, but in a couple of weeks prepare yourself for My new weapon in total Domination.
The concept is ownership.  A slave is owned by his Mistress.  you know the feeling.  you love the feeling.  you live with the "concept".  Everyday you live for your Domina.  Soon, you will take the next step into a deeper meaning of ownership.  If obedience is pleasure, then expect intensified pleasure as I exert more control and higher expectations on how you are to please Me.....
Have you noticed how your mind can often play tricks on you?  Whether you wear My real collar, a symbol of My collar, or just hold the Mental concept of being My collared slave, My collar will have a profound effect on your mind and your body.  Reactions will be involuntary, almost against your will.  But, nothing you do for your Domina is against your will.....Imagine, in the wrong hands.....But you trust your Domina, don't you, My good boy?  Think about your future here with Me...
you have shown your Domina so much love and devotion, that it ALMOST convinces Me to show you some Mercy in the weeks ahead...but your mind is a terrible thing to waste.  I'm going to use it for My amusement and pleasure, when I introduce you to The Ice Queen.  Although you will have to wait until NEXT week...I love teasing you.
Sweet Princess Shelle has been missing these last few weeks.  When will She return?  Is this Ice Queen an Impostor?  Who will have the ear of Domina Shelle as She launches Her plans for total enslavement, the Good, or the Wicked?  Any preferences? ~giggles~  
This week's file Voice Of Control will CONTINUE your much needed BRAINWASHING and PROGRAMMING---- I always know what you need.
Check HERE often My slave....you have a HUGE assignment CUMMING in a few days.
Come see special deals...
Written by

Administrator

Category: Blog
The Kingdom is saddened.  The Princess has fallen ill.  She has not been seen by Her slaves for more than a month. T he place is empty.  Oh where oh where could our Princess have gone?
Let's overhear what these two slaves are discussing.  "According to my Julian Calendar, the Princess fell ill about 35 days ago. If only we knew where our Princess was taken, we could send her our tributes, our animal skins, gold, or use that delivery service, Flowers by Chariot."
Overhearing the conversation, a third slave whispered, "There is speculation She has been taken to the best bath spa 40 BC has to offer. She must be in the Cleopatra suite. My sister in law is one of Her handmaidens and tells me the Princess gets delirious at times calling out: "More papyrus, more parchment, My slaves beseech Me, they need Me, they beg to know how to serve Me. They need to know if they are allowed to touch when worshiping Me. I must carry on."
"The palace is empty" added the third slave.  "Who will take care of it if the Princess can not?  That same day Slave Maid cleaning service is not cheap, even though they use slave labor".  Even a slave has to eat..(An aside: Who knows how to help?)
Meanwhile, with the powerful Princess weakened, a plot is being carried out by her once most loyal slave, Lady H.  For those pledging loyalty and fealty to her, she promises.
Lady H Plot----
Lady H. seizes on her opportunity.  With the Princess weakened, she will arouse treachery and betrayal by slaves loyal to the Princess.  She understands all too well, that the best way to a slave's soul is through his c**k (ding-a-ling; pecker; boner; wee wee; pee pee; willie; tool).
In a dwelling near the Royal Palace a long line of slaves is seen sneaking there to a darkened chamber.  Lady H uses a rather effective technique…
She is seated inside, painted lips and eyes, solid legs apart, ankle bracelets, enormous breasts bared, nipples hardened.  She tells the slave to drop his loincloth and approach her.  After the slave licks and sucks her fingers, by a simple touch she arouses the sleeping giant, pulling with two fingers back and forth, back and forth, till it rises to complete attention...She licks the head around with her tongue, blowing her breath on it.  Around and around...then places the stiffened c**k into her mouth and works it hard, as if she has been doing it her whole life as a member in good standing of the world's oldest profession.  Meanwhile the slave fondles her swollen breasts and rubs her aroused nipples.  As she begins to feel a shuttering, she squeezes the "willie" firmly between her breasts squeezing it up and down, until the deposit explodes and spills onto her sexy cleavage , leaving the slave to lick it clean…… "NEXT", she shouts.
Well, My pet, how do you like My little story.  It's sad, but true.  With relapses I have been sick for 5 weeks but I'm optimistic that I'm about to shake it.  My voice is not quite back.  Thanks for your patience.  I have had to postpone your "official collaring and ownership discussions", until I finish the Sex Tutorial and feel completely recovered.  I look forward to being 100% very soon and taking you by the collar…
By the way, the treachery was a trick.  Any C*M deposits MUST be paid.  No cheating your Domina out of what belongs to Her, your C*M.
Assignment 1-
It's Mothers Day here in the US and W/we all know how amazing MOTHERS are.  So this week, make your MOTHER, your WIFE or a SPECIAL MOTHER figure in your life happy.  This is so easy to do, a simple phone call, a pretty rose, a hand written note, or maybe even a lunch out.  Be creative!!!!  Make this Mothers Day a SPECIAL one.  I hope that every one will join in, even if you don't have the same Holiday.
Assignment 2-
you may have noticed some "edging" towards new topics of interest, that excites Me.
I want to give you, My most loyal and devoted slave, the chance to give your Princess some additional insight into the deepest recesses of your fantasies.  I have My ideas on new files for your continued training.  But this is your opportunity to cast a vote on this survey for what stirs your......let's call it your imagination.
you have ONE or two votes to cast.  I am giving you many options.  Some familiar which I intend to continue.  Whatever your choice, I want to know your thoughts.  Some are new and some may seem rather far--fetched, from your "INNOCENT" Domina---LAUGHING!!!  So make your choice (s) that you would like Domina to whisper into your ears and slip into your mind.
After reviewing the results, I will do all I can to TAKE you deeper into My control---give Me the ammunition I need to F**K with you, in a most sexy and DOMINATING way.  Stay tuned.... In your email you MUST add in the SUBJECT LINE----VOTES---otherwise you will miss out.
Vote ---you will add your THOUGHTS --- FANTASIES---Ideas---RELATED to the subject you select:
1. Chastity theme (Erotic Hypnosis)
2. Brainwashing (Erotic Hypnosis)
3. Erotic fantasies (Hypnosis)
4. The Collared slave (Hypnosis)
5. Cuckolded by Domina Shelle
6. Used and Abused
7. Foot Worship
8. Body Worship
9. Tease and Deny
10. Extreme Sex Play
11. Oral Fetish
12. Financial Domination
13. Dirty Talk
14. Ways to Serve Domina Shelle(Hypnosis)
15. Other_____________________
My NEW Trance-formation file JUST RELEASED --- Tranceformation-My Baby --- If you love My TRANCEFORMATION files...you must get this.
Check-out My special deals...
Written by

Administrator

Category: Blog
Would it be safe to say that I'm almost as pleased you, My slave, over our Tutorial "encounters"?  And I'm very pleased.  you are a great playmate for your Domina, My sex toy.  I will soon be able to take you in hand with an added option of Live Chat.  Specific notifications to follow.
As I plan ahead for what is in store for you, My pet, I'm asking Myself, whether this training will be too mind blowing?  Is it too much, too soon?  When is too much obedience, too much pleasure to bear when I use Lady Helena to inflict damage? (If you don't know, Lady H. BELONGS to Me).  She is My full time slave and is used by Me to dominate disobedient bad boys.
I have stopped and asked Myself, will the "release" changes be too intense for My chastised slave?  Will he continue to keep guard and protect My c**k, or will the pressure explode, whenever he holds onto it for dear life?  Will My heightened expectations creating increased pleasure compensate for any anxieties over failure to continue to gain My approval?
On the other hand, I am so gratified by your response to this tutorial, especially our private sessions.  you love Me and are eager to please and serve your Domina.  And most important I get excited when I hear you begging Me for more and more.  you need Me.  How endearing.  So prepare yourself, My owned slave, especially my chastised slave.  We have exciting adventures ahead.
This week's assignment is a choice.  I've selected 4 files for this week's special deals.  you are to listen to a file that you have not listened to.  If you are such a devoted good boy and have all 4 files you can choose your favorite to hear, again.  Or you can email your Domina with "File recommendation" in the heading and then indicate 3 files you have not heard and I will tell you which one I want you to listen to.
Intense Control --
Trapped and under Her CONTROL.
Lucid Dreams--DOMINATION --
My WICKEDNESS taken to a whole new level... Control over you is too powerful to resist.
The Sweetest Poison --
Feel My erotic poison coursing through your body, pumping through you like a wildfire burning out of control.
Brain Wreck --
66 minutes of Succumbing Mind Confusion and DEEP EROTIC Relaxation... A Hypnotic Seduction.

I have an announcement to make.  I have detected too much unregulated pleasure from their Domina's generosity.  If there is to be so much "self abuse", unbridled stroking, I am to be the primary beneficiary.  So from now on your C*M Deposit  will increase to $20.  As you know all Chastised slaves continue to need My expressed permission for release. ~~~~ giggles.  I will be considering your needs, individual SOON... as to how and when you will be allowed to RELEASE...married will be advised---as you must take care of your wife when she wants.  HUGE changes CU**ING...~~~are you afraid????  Look for UPCU**ING info on this SERIOUS matter.
Written by

Administrator

Category: Blog
So, My pet, how do you like your lil farm Girl, now?  I am so happy and pleased by your enthusiasm for My tutorial training sessions.  I am very appreciative to My contracted slave who has whole heartedly participated in the Tutorial and for your positive reactions to My private slave for Shelle website.... I have said this before, but it has become the central joy of My life, the devotion and support that you freely give.
And here are some reasons why:  Testimonials ...
That is one of the privileges of Ownership by Shelle.~giggles~  The hard work has been well worth it.
And for all in the Tutorial course and still waiting to finish, thank you for strengthening the bond between U/us.  I enjoy O/our email interactions.  I am considering continuing this personal training beyond the tutorial with Live Conversation between U/us, if you have an interest in hearing My sweet voice bring you to your knees.  So, let Me know if you are interested with: Talk Live with Domina in the heading of your email.
Good news.  After My "setback", I am all better and caught up with the Tutorial.  Those waiting for your class opening for Part 2, should be hearing from Me very soon.  That means if you want to participate in the Lovemaking Tutorial, after your Purchase Classroom double file, you will be able to follow up with Part 2, O/our email interactions, now with an extra option for Live talk (I'll keep you updated).
Now what do you say about showing some appreciation for Lady Helena's part in your erotic fantasies?
This week's two new Brainwash releases will continue the theme of your deepening enslavement to your Domina. you will be surprised how deep this can go:  Brainwashed--No Place to HIDE and Brainwashed and Collared.
If you are now getting my private tutoring, you know where I'm going. ~giggles~
Brainwashing away the clutter in your mind, concentrating on your Domina and clearing a direct path to My tighter grip around your …. Prepare yourself for ownership, obedience and the "safety" you will discover being bound to Domina Shelle.
Also NEW this week--- Femme 3 - Drag ---Just for you My sissy pet. you will LOVE this one.
Check My special deals ...
Wicked Control --
I will cast MY wicked little SPELL...
The Voice --
My Voice floats inside your brain.  Who is it that controls you?
Written by

Administrator

Category: Blog
A quick note--- As you know I went on a trip last week to Tennessee. Well your Domina became sick while on that trip. Seems to have started out with allergies. I have had a fuzzy head with a headache and all the other symptoms of allergies. After more than a week, I am FINALLY feeling a little bit better. Although this did put Me more behind than I had planned.
This weekend I'll be catching up on the 1st assignment of your tutorial...So hopefully get back on track beginning Monday.
The Tutorial has really brought a lot to mind, so many ways for U/us to become even closer. I'm very excited for all of this.
This week is all about your continued training---bringing U/us closer and you MORE enslaved to ME. So be sure to listen to files that teach you obedience---Plus an added focus on PLEASING Me, oh so many ways to PLEASE your Domina.
Special DEALS ---
Obedience Is Pleasure
At My Feet
Program 2 - To PLEASE
Surrender N---B---S
I am so excited about where W/we are headed together. Places you have never even DREAMED of. A life of BOND and committment so powerful. Yes, I am building a FORTRESS, MY EMPIRE of MOUNTING My COMPLETE access to your mind and body. Taking more of a role in your everyday life, preparing you for all that is coming. Placing you in a PRISON, each bar stronger the the previous. A place you will never want to leave, I told you and I am telling you...it is happening even NOW! you are just where you want to be. you do it all for ME!
YES, and that bulge proving MY ownership just began swelling again. I do love MY place, here with you.
So let's get busy----
My pet, you know Me to be genuinely interested in your well being. As I reflect on this Lovemaking Tutorial, I want to say a few words about O/our deepening relationship. It is you who surrenders your mind, your will, your body and c**k to Me, your Domina and Mistress. I do not Take it. (unless that is what works for you.~giggles~) I use what you surrender to benefit both of us, and those important in your life. My Ownership gives you energy and excitement. you strive for ME.
you give, generously, to Me because you want to take care of Me. I accept your offerings as an expression of your devotion and love for Me. And I take care of you, your needs, and make you better for your loved ones with My attention and love. Do you agree? Now for this exciting week ahead..
As you surrender to Me more control over your life, the intimacy in O/our relationship intensifies. In the Sex Tutorial Part 2, Prof. Shelle brings your training, through your mind, to all your senses.
If you do not already have a pair of My panties (and can receive a pair in the mail) now is the time to order them.
WARNING: The lessons learned from your training will stay with you for a lifetime.
These email interactions with your Mistress, Domina Shelle, will give you, a clearer vision to your devotion of serving and pleasing Me, as I expect, My owned pet.
As you already know, at this time the 1st CLASS IS FULL. Since the class size was limited to give Prof. Shelle enough time for individual, personalized tutoring with each student.
So prepare NOW go and ahead and PURCHASE your Tutorial Part 2, this will put you on the WAITING LIST. you will receive all the materials in the Part 2 Description. After your purchase, you are to email Me with Tutorial Part 2 in the heading of your email. I will then notify you when it is your turn, in the order I receive your reservation. Plus, I will give you your first homework assignment to work on in advance.
Don't worry you will have the opportunity to complete the ENTIRE Lovemaking Tutorial.
See you in class.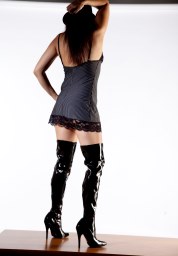 Get Updated