My Blog
Written by

Administrator

Category: Blog

I'm almost finished with your next TRAINING session.  I'm so excited as it moves Us/us one step closer to where we need to be.
The NEW session is called "Dopamine".  Do you know what Dopamine is---read this description closely before deciding to purchase the file.
Dopamine:  Dopamine is a neurotransmitter that helps control the brain's reward and pleasure centers.  Dopamine also helps regulate movement and emotional responses, and it enables us not only to see rewards, but to take action to move toward them.
The presence of a certain kind of dopamine receptor is also associated with "risk takers."
Are you ready to take a little risk, I know you are because this excites you.  Heck, you are probably hard already just thinking about what I might do to your brain now. ***GIGGLES***
Yes, I will give you permission, you will want to listen...and don't worry, I always know what I'm doing, even if you have NOT a clue what is happening inside your mind.  It's OK!  Perfectly NORMAL.  Trust Me, I'm a Nurse and of course, a very talented Hypnotist.
Surrender---B
I am so EXCITED about the NEW slavery CONTRACT that I am preparing for you.  This will deepen Our/our relationship and commitment to each other, sealing our COMMITMENT as OWNER and slave.  Just think, your giving ME what I want with NO regrets and it will be in writing.  I'm soooo happy... Just thinking about your signing My contract sends little tingles to My panties.  Be sure to check HERE often, I will be updating with MORE details as to how you will sign MY slave CONTRACT.
Check out My new payment options.
My Special Deals this week ----
Hypno-Sleep --
Deep Penetrating Arousing Sleep.
No Recall --
You will have NO memory of what I'm about to do to you.
Black Magic Woman --
68+ minutes of Erotic MIND NUMBING Hypnosis. Under My Spell you will never be the same...

One QUESTION---Are you interested in just how I spend MOST of MY days.  Do you want to know more?
Kisses
Written by

Administrator

Category: Blog
First, I want to say how pleased I am with your reaction to My Chastity series. Reading such positive comments has been very gratifying for Me. Remember, I am trusting those that didn't make it, to send Me your Chastity Penalty. But more importantly, as I instructed, you owe it, not only to Me, but also to yourself, to try again. When you get there, my loyal slave will find a greater pleasure in your obedience, devotion, sacrifice and service to Me, Your Domina and Mistress, than in that temporary pleasure of an orgasm you couldn't control. Obedience is pleasure.
Last week I said there is so much to do in 2015. Exploring this theme is high on the agenda. I feel more Wicked and will be testing you more. I will continue my training of helping you find that greater pleasure through a deeper level of service and sacrifice. I will test your outer limits of obedience and devotion. You are going to be so HARD for me. Let's see how desperate you can be for your Domina... I'm looking forward to 2015. How about you?
Listen to My new file DEJA VU ...
It's deja vu, all over again...I'm too young to remember that. But have you ever experienced deja vu? Maybe you visited some place and stopped for a moment and said to yourself, "This is so familiar. Really? I feel like I have been here before, but it doesn't seem possible". Sure, it happens to all of us, and sooner than you think, you will be experiencing many more of these thought distortions. ***GIGGLES***
There are several possible explanations for the phenomenon of deja vu. One is the occurrence of "cryptomnesia", which is where information learned is forgotten, but nevertheless, stored in the brain. Then, similar occurrences invoke that contained knowledge, leading to a feeling of familiarity because of either the situation, event or the emotional content. Voila, "déjà vu".
Some experts suggest that memory is a process of reconstruction, rather than a recall of fixed, established events. This reconstruction comes from stored components, involving elaborations, distortions and omissions. Very interesting isn't it?
Well I want you to listen to my voice and just TRUST me. Trust me while I play and f**k with your mind once again. Omit this. Elaborate on that. Did you forget something? You get the picture... This is going to be fun...and just think you may or may not even know what has happened, or if it happened at all. Sometimes through these distortions reality gets confused with fantasy. After all, fantasy and reconstruction of your brain is what I do best.
Notes----
Don't forget Valentine's Day is coming up... ***GIGGLES***
Have you signed a slavery contract yet?
If not, it is the time. (DON'T miss out on PLEASING ME) I want your COMMITMENT in writing!!!

I appreciate the devotion you have shown Me with your contributions toward my car debt. I am now more than 33% of the way finished. It will be a relief to me, give me some breathing space, and lessen My workload. By next week I will adjust the amounts so it is a less painful sacrifice, But I want to be finished with it soon in 2015.
If I have NOT said thank you for your wonderful Xmas gifts---it's because it came without a name---PLEASE let Me know!
NEW SPECIAL DEALS ---
Surprise Surprise --
A very NAUGHTY, fun and SEXY Tease & Denial file.
Time Regression --
Dangerous little Princess is your guide through Time.
My Entrancing Eyes --
Become Entranced, fall into MY HYPNOTIC eyes...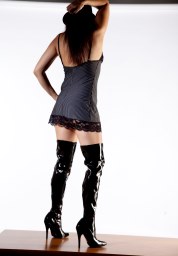 Get Updated