My Blog
Written by

Administrator

Category: Blog
NEW file -- SEXUAL PSYCHOSIS -- your sexual enslavement.
There will be no let down in pursuit of My goal of stronger/tighter control over your mind and body. With this week's file, Sexual Psychosis, I play/toy with the most sensitive erogenous zones of your mind and stimulate your imagination with vivid sexual imagery that will keep you fixated and obsessed with your Domina. Taking control of your imagination I infuse sexual arousal and pleasure through every fiber of your body. Don't be afraid that I will f*ck with your mind and implant lasting triggers, I'm always doing this...After all, this is exactly what you want….you need Me in control, My puppy.
FALLEN VICTIM
Last week's file, VICTIM OF MINDLESSNESS, gives Me a very satisfying feeling. When I create My scripts and think about how I will present My message, I think of you....what you need, and how it will affect you. I know how you have fallen for Me, My voice, and My words and I know you surrender to My power and control over you. With Mindlessness, I achieved My goal of intimacy. you are thinking about Me after you take off your headphones....you are carrying the arousing sensations from My sessions with you, throughout the day. Do you need your Domina? Are you loving Me and wanting to please Me more and more?....Are you experiencing the intensified pleasure in your deepening enslavement and servitude? PERFECT !!
So, I strongly urge you not miss one of My the most creative and powerful examples of what I can do to you and your mind. Just read the reviews, if you haven't fallen victim to this Mindless experience. It is something I expect to build on as your slave training continues to take unexpected twists and turns.
QUESTIONNAIRE
Thank you for the questionnaires. I am taking all your preferences and suggestions to heart. You have given Me good feedback on what you like in Files, Assignments, Email slave training, The Dungeon, Lady Helena, pictures, fetishes. Plus what you would like to see more of. There is a wide variety of interests and priorities and I intend to have you begging for more. Not Everything will be for everybody, But I will provide something of special interest for all, so you will have what you need. Next week, I'll give you some highlights.
I also want to say how gratified I was that you put so much of yourself in your responses. Again, I had a sense of intimacy with you. Trusting Me to reveal your inner self.
Expressing your devotion made Me feel really good.
CUSTOM
Those interested in Wicked Therapist or Chastity Custom file, will hear more from Me with the details VERY soon now. I will be recording your file within a week. I'm excited about this....
NEXT WEEK
This coming week I've decided to respond to a popular request you listed on the questionnaire. Let Me just say, bring your collar and leash to your training session. Be sure to fasten your identification ownership tag to your collar. you may want to practice walking on all fours. Mistress Shelle is looking forward to the first of two Obedience training lessons.
Don't forget, October ends with plans for a spooky, spine tingling Halloween.
My special deals...
At My Feet --
Have you ever felt what it is like to literally be BELOW and BENEATH a Dominant Woman?
Obsessed and Addicted --
Obsessed and Addicted ... Everything She does feeds your obsession and every part of Her is addictive.
Sweet Deception --
My enchanting sweet and innocent voice will catch you a little off guard...
Category: Blog
NEW Mp3...your COMPULSION -- Victim of Mindlessness.  When you prepare yourself to listen to this file, I want you to consider a real possibility... Aroused and intensely brainwashed, maybe this becomes the time you become permanently captivated in Erotic Hypnosis with no will to return to your reality.  you find the essence of your enslavement......The pleasure and obsession, turned into a Compulsion, to please Me and make Me happy with your perfect servitude.......... My perfect owned slave.
You MUST listen to this file, it is your COMPULSION!  The POWER of this session has surprised even Me.
With each file, I take you out of your everyday life and bring you deeper into My Erotic Hypnotic World, where you long to be.  you bring Me your submission, subservience and your obedience, My puppy and surrender everything to your Domina.  And each week I become more powerful with a tighter control over your weakened mind, will and body.
FOLLOW-UP
Thank you for returning last week's Questionnaire assignment.  I will be reviewing and taking your advice.  I'll give you a summary of results and some of My conclusions.  I'm excited about all the possibilities of increasing your desperation for Me.
Also, you will be receiving My email instructions as follow-up to My CD TRIGGER COMMAND.  Look for My email this week, giving you exactly what you deserve. ~giggles~  I commend you for what you have told Me.  As you know, this is part of your training and an important part of O/our relationship.  There is still time to get in on this exchange with your Domina.  And you'll feel better and excited to hear back from Me.
If you sent an email about the CUSTOM file, I will be sending you details about it this week.
GIFTING OPTION
I am going to explain My recent interest in https://cash.me/$ShelleRivers  It is a tremendous benefit for Me.  Everything you send goes directly to Me.  There is no cost to you.  your personal information remains completely anonymous.  Continue your purchases through My website with CCBill, but for certain other gifts and tributes, look into whether this is something you can do, and whether you feel comfortable sending your support directly to Me in this way.
NEXT WEEK
October is going to start with some downright intense HYPNOTIC sexual encounters.  I plan on eruptions and HARD core mind addicting F*CKERY!  So hold on to that hard you know what.  W/we will explore how deep this Sensual Erotica can go.....
Oh just so you know, over the next weeks, I will be testing SUBLIMINAL messages and how effective they are.  These TEST subliminal messages will be hidden within My sessions.  So if you notice strange lil things happening to you, don't worry.  I'm in control.  More on this as I PROGRESS.  Oh, the things that I do to you. ~~~GIGGLES~~~  Can you say GUINEA PIG.
My special deals:
Fatal Attraction --
EXTREME and DEVASTATING---POWERFUL and EROTIC.
Wild Ride --
"Wild Ride" - A Hypnotic Rollercoaster.
Hypnotized --
This file is PERFECT if you are just COMING to ME...Or is the DEEPEST trance if you already belong to ME.
Category: Blog
THIS WEEK-- STRICT TRIGGER
When I take you to Shelle's Playground anything can happen.  you anticipate the meaning of the coded letters and then you obey My orders.  I like this week's Playground TRIGGER, SURRENDER CD because it reinforces Obedience to your Domina.  I expect very revealing interactions.  As I mentioned last week, I will be taking stricter control over you.  So feel your leash shortened and tightened.  This is a session for ALL!!!
In case you missed it, I have been making available in New Releases, three of Lady Helena's files:  Lady H - Submissive Credence, Pleasure Shock, and Drain.  Save your money, slave boy.  Give them a serious look and support My slave Girl who has been such a help to Me.  Plus Lady H has a foot fetish picture pack ready.  Be sure to check it out.
DUNGEON
My shackled slave, I will leave My Dungeon gate open in case you missed all the action.  So in case you crave the sting of my crop and the thrill of its impossibly deep arousal, clothes are not required.
CUSTOM THERAPY
Thanks for your responses to My custom Wicked Therapist personalized therapy session.  If you have not already gotten My email response outlining all the details, you will be getting it soon, so be patient, My patient.~giggles~  I will start recording this Custom phase of your enslavement and servitude to Dr. Shelle, your Unethical Therapist, next week.  On that arousing note, there is still time to email Me with CUSTOM in the subject line and I will give you all the details before you decide, coming as soon as Debbie leaves... For SFS the same with Chastity Custom.
WEBSITE QUESTIONNAIRE ASSIGNMENT--- Challenge to Please
Having the site go down has helped Me focus on setting priorities going forward.  I want to spend My time and attention in productive ways, I intend to focus on you, My lil puppy.  Just so you understand that last week, when I said that I will be contracting out a few items, this has to do with website updates and security.  NOTHING else changes.  Someone asked if I would still be doing My own emails and script writing for My files.  The answer is ABSOLUTELY!!!!  That will never change.  This is My direct road to you.  So don't worry, NOTHING changes for you and Me.  The only changes will make My sites better, faster and easier to navigate.  At some point in My future, there is a NEW LOOK for My site, it's just delayed a bit!
Also, I have put together a Website Questionnaire Assignment HERE for you to help Me.  Give Me some feedback and answer questions on some needed changes and ideas.
Your Domina is having a great week.  I am visiting with My bff/cousin from my growing up days.  We have been kayaking, going to lunches and dinners (thank you for sending Us).
NEXT WEEK
I am very excited about next week's file, "Victim Of MindLessness".  Quite intense Brainwashing.  After you experience it, maybe W/we have a contest and you get to vote on My Hall of Fame Erotic Files, giggles.  I am taking you where I want to.  And you obey.  you are falling deeper and deeper in so many ways, aren't you, My helpless puppy.
Category: Blog
From Therapist to Dominatrix, O/our connection gets stronger and stronger in My erotic fantasy world.  Some of you thrive in Chastity and I feel your genuine love, submission and obedience.  Others may not consider Chastity to be a personal long term commitment, I know some should consider benefiting with pauses from constant uncontrolled masturbation.  I expect to have the curriculum ready, soon.  Did you enjoy the Tease and Denial 101 preview? ~giggles~
This week, it's the Dungeon for you My helpless puppy.  My NEW Mp3 - I have you Naked and Exposed--In My Dungeon. It's the next best thing to an ACTUAL LIVE session with Me.  When I take you deep into trance, your mind becomes even more submissive and obedient.  My hypnosis places you suspended, in a new reality of bondage and the pain of sharp strikes from My riding crop.  My words, because they are MY words, turn the searing pain into arousing pleasure.  See how much you will crave repeated visits to My torture Dungeon where your pain is My pleasure.
Custom File and Direct Control
I have something very special planned for you, My pet.  I will draw you into the deepest erotic hypnosis of obedience, obsession, addiction and control in a most personal way.  Based on Therapist 5-Wicked Therapist the Unethical Dr. Shelle as the Wicked Therapist will take you as Her next patient.  This is a Customized file edition addressing you, personally, as My patient, throughout O/our private one to one therapy training session.  I take you deep, keeping you obsessed with.... well, ME.
The "cure" for your addiction makes you My slave.  Sounds delicious. ~giggles~  See how I devour your mind and will to use your obedience and submission for My unethical financial gain.  Under My "suggestions", I keep you hard and useful.  Cum and fantasize about Me in a way you never have before....Email Me with CUSTOM in the subject line.
This is to show your interest in getting more details.  Strictly fantasy?  Or is danger lurking?
I will respond to Your email with all the usual file details in a week or so, including the cost which will be much less than My usual Custom files.  This is part of My unethical scheme to keep you addicted to your deepening enslavement and MY control.  It will also help to offset the losses and expenses while My site was down.  There is NO obligation when you email about your possible interest.  Beware.  you can't resist My voice and words of instruction when I call you by name.  Remember to add CUSTOM to the subject line.
NEXT WEEK
I am putting together a Website Questionnaire Assignment for you to help and give Me some feedback and answer some questions.  I have to make some needed changes, which this website disruption has brought more into focus for Me.  I have had enormous expenses bringing My website back online and now paying for additional professional services for My website and File production.  More next week with My questionnaire assignment.
Also next week, I will be taking stricter control over you, My puppy, and put you on a shorter leash with a new PLAYGROUND TRIGGER.
My special deals...check them out!...
MY VIRUS --
MY VIRUS---THE PERFECT PROGRAM---NO ANTIDOTE.
Vixen - Seduced Into Slavery --
HIGHLY Sensual and EROTIC.  This file is about Seduction and Choices.
Drink Of My Essence --
This file will purify your mind, body and soul, and help you dream of your Princess every night---This is a PERFECT loop file.
Category: Blog
I am very happy with the response to your training assignment even with all the distractions from this terrible disruption to My site. I know you love Me and want to take care of your Princess.
you are learning your lessons just as I expect you to. Anything and everything you do to serve and please your Domina brings you pleasure. This is what I want for you to experience. you don't get any harder and euphoric than when I control your orgasms. A submissive man needs to be obedient and controlled. Whether listening to files or performing assignments, I want you to live with the pleasurable feelings of offering yourself to be used by your Mistress to please and serve Me.
THERAPIST-CHASTITY, USEFUL WHEN HARD
Dr. Shelle is back to continue your training and take you deep into trance with the arousal of Obedience. This week's file "Sexual Trance-ference" is good for you. This is what you want.
It's My gift of sultry hardness to you. When you are hard, horny and desperate to please Me, you become USEFUL to Me. you become so eager to serve and obey. O/our relationship is in PERFECT balance.
My puppy, you are being trained to get even harder every time you FEEL useful to Me. With summer slipping away, your mind has been slipping deeper under My control. You are discovering the PLEASURE of serving your Domina. To prepare for this week's file, listen again to Therapist 5- Wicked Therapist.
Sign up for TEASE AND DENIAL emails or text messages during this week of Chastity. Each email, will keep you on edge while in Chastity for your Princess. If you are interested in My Chastity C*ck control training instructions, send Me a $30 Chastity Offering ...Then send Me your email. Put "Teasing" in the heading. I will send you 2 emails. If I am very pleased with your progress, I MAY have a surprise for you.
LADY HELENA and NEW TRIBUTE OPTION While still waiting for Visa to be cleared for Lady Helena's site, My lucky slave boy, you will be able to buy Her products and services from My site, just check her folder or NEW RELEASES. Remember Lady Helena is My slave and she works for Me. She specializes on what She does so well, the Harder edges of Femdom.
While exploring alternative Tribute option, I found what looks like the best possible way to send many of your Tributes and gifts. https://cash.me/$ShelleRivers.  Look into it and email Me with any questions.
Reviews and Promotion
I want to stress, again, the importance of reviewing My files, assignments and other offerings that I have. When a new customer comes to My website, they look around and explore what's available and what you have to say about it. Reviews are very much one way you serve Me well and should feel good about it.
NEXT WEEK- The Dungeon
I continue your descent and reinforce your enslavement. The Dungeon is where you feel the intensify My total control. you trance into a sleep of surrender. I put you in touch with your deep seated need for submission. Discover how far you will go to feel bound to your Domina.
My website is ready for your purchases, isn't it nice to be close again.
Oh My contracted slave, your NEW TRAINING will be ready for you within 24 hours.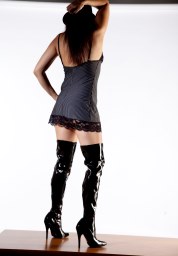 Get Updated