My Blog
Written by

shelle Rivers

Category: Blog

This week's file Brainwashed NOW is just the extra slave training you need. Every month additional extensive mind fucking trainings similar to this is available to My devoted contracted slave on slavesforeshelle (SFS). What a perfect time to focus on the training you want. My submissive pet knows he needs the pleasure of pleasing your Domina. I think it's the perfect holiday gift for Me. Once you listen you may decide to take this next step with My slave contract, especially after the experience of My stroking and orgasm control in this week's CONTEST.
A note to contracted slave.......If you have been My contracted slave for some time you likely have this file "Brainwash NOW". Double check and make sure you don't already have it before buying it.
C*CK CONTROL STROKING CONTEST
This week I want to concentrate on taking your pleasure one step further. you will please Me with this anticipated C*CK CONTROL Stroking Contest. Can you think of a better Contest to enter? This is a new level of control over, My puppy. In trance you are drawn into a relaxing state of mind, so open and suggestible to all My instructions. Now fully conscious, I want to experiment with your total loss of control to Me and the effect on your future craving for My orgasm control.
you have one day this weekend to complete this Assignment (or choose the next available day). you stroke and stroke and stroke to win. Carefully follow My instructions and recite a special Mantra for the contest. You will be emailing Me afterwards so I can analyze your results. The winners will receive something special.
This Stroking Contest is part of your ongoing slave Obedience Training to reinforce your desire and need for submission My control. In hypnosis, I experiment with your mind. Now, I am using this stroking contest to experiment with your c*ck and your imagination. you are directly under My power. How long can you prolong your intensified urge to c*m? How long you can last? Sounds delicious.~giggles~ DO NOT MISS THIS OPPORTUNITY to feel the pleasure of serving your Domina.
I have an alternate contest for My devoted Chastity slave, (Chastity C*ck Control Contest). It is a stroking contest with different rules to win and play by. The contest is for 2 WHOLE DAYS. Fall in love with your Princess all over again. Is anyone UP for doing both assignments? I'd do the Chastity second?~giggles~
CHRISTMAS AND UPDATES
I am very pleased with your response to last week's Stroke Control Assignment. From your reaction, maybe I can be persuaded to do a new one early next year. Thank you for those who sent early Christmas presents. Don't forget My CHALLENGE TO PLEASE, paying down My school debt, a perfect gift for Xmas.
My sweet, if you are not already committed, something W/we can give each other and enjoy for Christmas is My SLAVE CONTRACT. Take the plunge, if have been hesitant up to now. A most appreciated way to show your Domina, love and devotion, and win more of My time and attention.
Volunteer Assignment
When My website went down, I lost the list for My "Volunteer Assignment". If you volunteered to be available whenever I might call on you, email Me with "Volunteer" in the subject line so I can thank you with special Christmas gift to My wonderful good boy.
NEXT WEEK
I think I've kept you waiting long enough. I have what you have been waiting patiently for, BONDAGE. I'm so good to you, My hard and HORNY slave. Beware if you have a weak heart. Too much excitement can be fatal. ~giggles~ Especially with My follow up assignment sending you to visit My Dungeon with Lady Helena in charge. So handy to have it in Her basement. I've given Her My instructions, so you don't want to keep her waiting.
My special deals ...

PS...I give you permission to listen to Lady Helena's NEW session, Dirty Secrets. As you would imagine, it's NAUGHY as usual. A perfect gift to give yourself this Xmas!
Written by

shelle Rivers

Category: Blog

December is a favorite time of year. Welcome to a happy and arousing time I have planned for December. you want to obsess on your Domina and I will feed your addiction by expanding My control beyond the sessions you trance with Me. Going deep into a state of euphoric bliss, you become who I want you to be, your true self....This is the best part of your week.....perfectly submissive and obedient, My slave who loves and adores Me. you want to live to please and serve your Domina.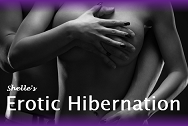 I have put together a file session and an assignment for you, My puppy. This week I have prepared EROTIC HIBERNATION, taking you deep into trance and pressing you closer and closer so you can feel My body hard, against yours. My words grip so tightly around your already weak, vulnerable mind. All that matters is surrendering complete control of your arousal and pleasure, memories and fantasies, body and stroking. Becoming more and more suggestible and submissive, you trust Me to know what's best, because you belong to Me now and forever.
STROKE CONTROL ASSIGNMENT
With this Stroke Control Assignment you continue to live out your desires into your conscious day. Satisfy your need to please and obey your Domina beyond O/our Hypnotic sessions. Experience what I want.....your need for My orgasm control and permission to release. you will spend this Sunday, Dec. 4th until bedtime, following My special instructions, beginning the moment you wake up in bed. So wake up knowing your instruction.
CHRISTMAS AND UPDATES
There's nothing better than receiving early Christmas presents. I want to be very practical this year if you have any thoughts for Christmas giving. With My website going down and some unexpected expenses and setbacks, I want to concentrate more on paying off My student loan debt, which will be a great financial relief and give My life more flexibility. My CHALLENGE TO PLEASE is a good way to do that. For December, Tip Me Tuesday and buying lunch for My weekend shifts at the hospital would be an appreciated gesture of support. Thank you for your past generosity, you are so good to Me....and Santa Shelle may have something special for you, if you have been My good boy.
Updates: I have resubmitted information to get VISA credit approval for Lady Helena's new website and am awaiting that approval. In the meantime, you can always feel free to make an appointment with Lady H., or ask Me to send you to Her. you can trust She will know exactly what to do with you. ~giggles~ I have trained her very well.
SEEKING ASSISTANCE
I am looking for help with setting up visuals for a YouTube File I want to post as a video. If you have the technical skills to do that for Me and time to be of service, email Me with "Visual helper" in the subject line and win My gratitude.
NEXT WEEK
Next week will be a special week to remember. An extremely hot, sexy brainwashing file with a long intoxicating induction. A perfect file to listen to before your Stroking climax with the C*ck Control Stroking Contest, something I am REALLY looking forward to. I know you are, too!!! I experiment with controlling your mind in trance. Now I experiment with your c*ck and fantasies. I tease and play with you. Make you feel owned and take control of your arousal, your hardness, your pleasure.
I allow you to please Me and give you permission to C*m for Me (or offer your orgasm denial). Intensify your submission and obedience to My DIRECT c*ck control. To win the contest and My special attention, you will have to resist My provocations and stroke for as long as you can with as many strokes you can sustain.
Special stroking contest rules will be in place for My Chastity slave.
special deals this week ~~~

I wonder are those SUBLIMINAL messages working...what files have them, what files don't...It's a BLIND test. ~~~LAUGHING~~~
PS. Lady H is busy moving into her new house...some rumors have it, something about a DUNGEON. ~Giggles~ Is that why she loves that basement so much. Hummmm!!!! Anyway, she will not have internet until Sunday. The cable company needs to run lines to the house. So, she wants you to know that she will get back to your emails as soon as she has internet. She said something about, 3 ice cubes and nipple clamps for 5 minutes on both nipples. Does that mean anything to you, giggles! Surrender IC.
Written by

shelle Rivers

Category: Blog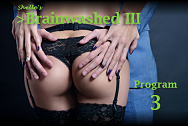 In this week's file session, I will take you closer to your destination. It feels so right to be hard for Me, to fantasize about Me, to crave My orgasm control. Like always you will go deep for Me. Brainwashed and hypnotized you surrender and offer yourself to your Domina. you will follow My instructions precisely and feel so good about pleasing Me. you belong to Me.
It's THANKSGIVING, so you are to have a wonderful day of family fun, like Me. If you will be by yourself or it is just another day in your part of the world, then you will keep Me for company. Email Me a Love letter so I know you are thinking about Me. I've had a difficult couple of weeks with more responsibilities at home. The support and devotion you continue to show has been comforting and know I appreciate you. Thank you for your Savings Assignment. You can always keep up that good work, if it's something you want to do from time to time.~giggles~
On these holidays, I look forward to being surrounded by loved ones. I will spend Thanksgiving with My family in North Carolina, cooking turkey with all the fixings..... cranberry sauce, stuffing, potatoes, pumpkin and apple pies....This traditional time with people important in your life makes life worthwhile.....I wish that for you, too. If you were thinking of Me and how Real O/our relationship has become. I really feel that way. Do you think about how much I mean to you? Where would you be without Me. you want to be really good to your Domina, don't you, My pet?
NEXT WEEK
I have another Brainwashing Session. you will sink, sleep, obey and get so close to Me. you will be just where W/we both want you to be, obedient and beneath your Domina. I am your EVERYTHING.
My special deals...
Written by

shelle Rivers

Category: Blog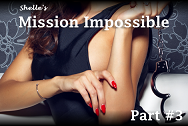 SEXY, HOT and a wild ride
With this week's file, MISSION IMPOSSIBLE--The Conclusion, I send you on your final Mission. Slip into trance with your deeper sense of enslavement, so suggestible to My voice. Submit and crave My physical c*ck control. Feel the intense release under My instructions. C*m find the wicked feeling of a submission so strong and irresistible. You are bound by My words. Utterly, helpless and completely brainwashed again by My voice, begging to be used for your Owner's pleasure. I love when you are so submissive and willing..... And use you I will. I bring you back to your real self......so you may serve Me, again. you need and want to make your body, My c*ck, available for My disposal, for your Domina and My Coven. you are your truest self, only with Me.
Follow My instructions in this file, precisely to its conclusion...So many things happening to you, but you are left with no memory of what I've done to you. Like many journeys you take, you live deep in the world of your submission, needing My control and directions. This opens up your imagination ... intensifies your arousal to be used as a tool, as My owned slave. I give you purpose and the pleasure of serving Me. I'm too good to you, My baby.
ASSIGNMENT
I'm pleased with all who participated in the Obedience Savings Assignment. you should be getting My personal response, if you haven't gotten it already. I was very moved by your dedication and caring. I know it was a difficult assignment, over 4 weeks. you did something very special for Me and I am so happy with you.
This week, I have this HEALTH AND EXERCISE ASSIGNMENT for you. It is important to Me that you are healthy in mind and body. Next week's assignment has you making rigorous use of My tool, so I will want you fit for future assignments.~GIGGLES~ If you already follow a healthy lifestyle, wonderful. If you need some encouragement, then this is it. If you REALLY need to change your eating and exercise habits and lose weight, then this is a start. you are to commit yourself to this Behavior Modification I expect from you. This is just the start, and you will work more and more each day towards this healthier way to live your life.
PHOTO SHOOT
A brief update...The Photo shoot is being planned. I have to work with My photographer's schedule due to an illness in his family. Once I know more, I'll let you know.
IN YOUR FUTURE
I will be postponing until after Thanksgiving this important Assignment. I experiment with your mind control in My file sessions. So look forward to this C*ck Control Stroking Contest because it is My experimentation with your c*ck and your fantasies.
I want to measure the correlation between the depth of your submission and your strict obedience to My DIRECT c*ck control with the hardness of your erect and your endurance, while you stroke complete instructions and win the contest. YOU will measure the ecstasy. So cum prepared for when I decide it's time. Special stroking contest rules will be in place for My Chastity slave.
Here in the USA and seven other nations, THANKSGIVING is celebrated on Thursday. This is a very good time to reflect on all the positive things in your life that you are thankful for. Show appreciation to family and friends. Be the best person you can be. O/our world needs more kindness and love. Show support for those who could use your help. I want to thank you for being such an important part of My life. Your devotion and support give Me joy.
Check My special deals ...
Written by

shelle Rivers

Category: Blog

This week you will let go and let me do what I do best as your Queen, your Master Mind of Brainwashing, is programming your mind with BRAINWASHED PHASE III--Program 2. This continuation of the series locks you in so deep there is no escape. I'll sneak in, as you sleep and change things around a little...Yes, like changing the programming in your computer...your mind is My computer, I'm making it My Masterpiece. you won't feel a thing. Giggles!!!
I tell you what I want you to hear, what I want you to know, and exactly what rules you are to live by to make Me happy. Brainwashed, helpless and controlled, you will become even more obsessed with ONLY ME to love, adore and serve....Obedience IS pleasure.
HARD AND USEFUL
With a week in Chastity I gave you the opportunity to live out your fantasies of submission and obedience. This is your REAL submissive self, needing the pleasure of being used. you want to find a way to show me how obedient you are, craving to please Me, to tell Me who you belong to, that I own your body and mind......that you need My c*ck control.
Just reading this is making you hard and useful to Me, so dedicated to My happiness. ~~~Giggles~~~ I own you and your purpose is to please Me...you need My permission to c*m. You need to beg Me for release. And just because you beg, it doesn't mean I'm going to give you what you want, you need to earn it. Show Me you want serve and be used by your Domina. Just think for a minute. Where would you be without Me? What if I weren't in your life, anymore? Such a void....Even stroking would lose much of its meaning, when it's not under My control...
ASSIGNMENT
This is the 4th week of your Obedience Savings Assignment. (If you picked up the assignment later, keep going till week 4.) Just a reminder, you are to add up all the savings that you sent Me and put the tally in this last email. you are to put "Thank You, Princess" in the subject line. I will review your assignment, assign your grade and show you the pleasure of serving your Domina with a sexy reward for My good little puppy.
PHOTO SHOOT
I am still working out details for the timing of Our photo shoot. I want to keep you hard and drooling in anticipation. In your Questionnaire, many volunteered to support Me and Lady Helena with a contribution to DRESS ME. I will have many pictures together with My slave Girl. Look for more updates on Twitter and future Blogs.
NEXT WEEK
MISSION IMPOSSIBLE--ACCOMPLISHED is next week's file. C*m find the wicked feeling of a submission so strong and irresistible. You will be bound by My words. Utterly, helpless and completely brainwashed again by My voice begging to be used for your Owner's pleasure. you crave, want and need to make your body available at My disposal.
Speaking of at My disposal.....~giggles~ Also next week is a special "hands on" Assignment Contest. Looking for record breaking results...And I haven't forgotten you, My Chastity slave.
SLAVE HANDBOOK
Also ready on slave for Shelle, SFS, is My slave Handbook that outlines all My rules and expectations for My contracted slave. This tells you what I expect in O/our personal and intimate communications. It outlines your obligations to your Domina. Conditions for orgasms, sexual activities, Chastity slaves, your collaring, your slave contract and the benefits you receive for your service and devotion. you can expect My time and attention to your needs and to give you opportunities to please Me and make Me happy with expressions of your submissive nature to serve and obey your Mistress Owner.
If you are interested in My slave contract contact Me.
My special deals...
Brainwashed III--Program 1 --
Continue My path to perfect servitude and submission...Program 1 of My Phase III Brainwashing.
Subversion --
POWERFUL Brainwashing and Mind Conditioning.
Manipulated --
My BRAINWASHING will breakdown your mind until I have all control...make you My puppet.
Reality --
Dazed and CONFUSED...like you have never EXPERIENCED before.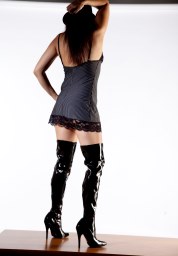 Get Updated