Altered State Of Mind
Time to take MY Power and Control to a NEW level...with My new Mind Therapy....
Description
Level: EXTREME
Length: 49 minutes
Category: TRIGGER IMPLANTING-MIND CONTROL
TEASER: LINK
I will IMPLANT a TRIGGER...a post HYPNOTIC TRIGGER.  You will listen and accept My trigger.  It will NEVER be removed.  NOT EVEN the MOST experienced HYPNOTIST will be able to remove MY trigger.
Then I will use a technique which I rarely use......that involves thought replacement therapy..... thought manipulation on a different level.  Listen to the teaser ...
.... and decide if you are ready...this file is NOT for beginners.
Product Download
Altered-State-Of-Mind-niv4d0py.mp3
Altered-State-Of-Mind-niv4d0py.mp3
Reviews
Tuesday, 28 November 2017
An extreme file that will leave You at Domina's beck and call for the rest of your days. this is a very powerful session that i just adore. Domina somehow manages to squeeze even more control into my weak and willing mind and i just love Her so much more for it.
Saturday, 11 February 2017
This file is marked 'extreme' for a reason. It is the most powerful file I have yet heard from my Domina. She commanded me to review this file and I obey.
The induction is one of the longest and deepest yet. Pure bliss. This file is difficult to review as there is so much going on, many layers of control and addiction. Some elements of amnesia, although She says up front you will remember everything. She will install a trigger that's very common in everyday life, but you won't realize just how common until it has slipped in and done it's work... That is, to make you Hers. This file is intimidating at first, then smoothly sensual and more intensely enjoyable with each listen.
Thursday, 09 February 2017
This file is extreme for a reason, so please be careful before you listen to this file. And if you chose to, rest assured, it is the best decision you'll ever make. Being under Domina's control is blissful and magical. I don't know what hit me, and I don't want to know. I can't stop thinking about her and I don't want to stop. This is powerful stuff. Do yourself a favor, get this file! But be warned.
More reviews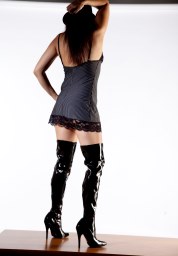 Get Updated