All Locked Up
Give up ALL control of your body and mind to ME...
Description
Level: Extreme
Length: 22 minutes
Category: Chastity
Sample: LINK
Give up ALL control of your body and mind to ME.  Are you ready?  Do you dare?  It is time to make a decision, but be warned—this is not a mild-medium or strong file—it is extreme.  Please try to be lying on your bed for this file.
Product Download
All-Locked-Up-w1iyq4dx.mp3
All-Locked-Up-w1iyq4dx.mp3
Reviews
Friday, 28 April 2017
I love to surrender control of my cock to Domina Shelle and this recording increases her power even more. It's been two days since I started with this file and I know, that the rest of the week won't be easy, but I love, how it feels. Whenever I feel my desperation growing, I know, that Her power over me is grwoning at the same time.
Sunday, 09 March 2014
It might seem a little difficult at first to give up this control but Domina Shelle is more than persuasive. Soon you will realize that the instant gratification is nowhere near as fulfilling as properly serving your Domina. It feels so good to give in to Her addictive power that I always want to be horny and obedient for Her. This file will leave you aching, for more and literally.
Wednesday, 02 January 2013
This file is incredible. I can't believe how effective the mental chastity belt is. The description says extreme and this is definitely not an exaggeration. It's exactly what I wanted though, my wish for 2013 is for my cock to be completely controlled by Princess Shelle.
More reviews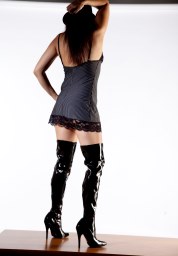 Get Updated