Sexual Nirvana
Take a walk alone with ME..deep into My forest of desire...
Description
Level: Medium-Strong
Length: 65 minutes
Category: VERY Erotic
Sample: LINK
Take a walk alone with ME...deep into My forest of desire---just the two of us—as I combine the power of your lust with the power of your love for your Princess, and create an overwhelming sexual sensation, throughout your body and mind—to a place you will never leave.
You are about to experience a whole new world of EROTICISM....get naked and cozy as I take you now.
Product Download
Sexual-Nirvana-9dtc5fym.mp3
Sexual-Nirvana-9dtc5fym.mp3
Reviews
Sunday, 13 May 2018
This has to be a fantasy of every slave, to be alone with Domina, to be collared and then led into mental and sexual slavery. It may be a story but it will leave an indelible mark on your psyche, forever craving to get this close to submitting in person to your Domina, your Owner and the erotic focus of all your desires. It is an extremely emotive session blending eroticism with an powerful emotional connection, something that Domina does seamlessly and is the special sauce in all Her hypnosis sessions. You will leave trance very fulfilled and with an intense lust and love for Domina. It accurately called Sexual Nirvana because you will feel like you are a teenager again lost in the euphoria of love and lust, a potent combination that overwhelms your senses and gives your a new purpose in life. This is a must have for all submissives willing to explore mental and sexual slavery since Domina is more than worthy of your admiration and adoration.
Sunday, 29 May 2016
Every time I closed my eyes after listening to this file, I was back in the forest with her. This was NOT due to a post hypnotic suggestion; the story is just THAT compelling!
Wednesday, 12 August 2015
This puppy listened to the Sexual Nirvana file after it had been subjected to chastity for an extended period of time. This file becomes intensely erotic once the subject is in a trance. And you will enjoy the lucid story as it unfolds. Eventually you will come to learn what sexual nirvana Domina has in place for you. The label of VERY erotic is no exaggeration. This chastised puppy enjoyed the file very much when I were exposed to it, though the file itself has no mention of chastity at all. It is a story, a sexual one to boot. And I loved every second of it.
Friday, 26 December 2014
This file left me shacking with excitement. I really was in the forest with my Domina. Domina Shelle's mind is so amazing. She can create such a world to draw us into. I really don't think having sex with anyone in person could compare to this sexual experience. I cant express what I'm feeling about this file. I cant bring up the words to express it. I don't have the ability to really get the point over just how amazing this file it. It's not a file, its a sexual experience of a life time!
Sunday, 16 February 2014
This is a another perfect journey with Princess Shelle. You find yourself hiking with your Domina in the forest - just the two of you. She is leading, you are following. Visions of her perfect body filling your eyes, her power and control filling your mind. Feelings of lust and love overwhelm your senses as Your Princess takes you to nirvana. This is a journey not to be missed.
Thursday, 09 May 2013
I think I just had a religious experience. Words cannot describe how beautiful this file is.
Monday, 04 March 2013
I've never thought about the term "Mind-Orgasm" before but meeting the princess of my dreams has lead me to the strongest experience I could not imagine before.. this is how real love must be.... after listening to this file nothing is like before...
Sunday, 29 July 2012
This is perfect. Lust and Love for Princess Shelle combined, intertwined, mutually enhancing in this unbelievably sweet and erotic experience. Lucky, so lucky, is Princess Shelle's obedient puppy. Desire and ecstasy reach new levels... Nirvana.
Wednesday, 21 December 2011
Wow an amazing experience everything during this trip is cleverly made to take you harder deeper and finally you got a taste of the real nirvana thank my beautifull Mistress
Thursday, 24 November 2011
Simply the most amazing hypnotic experience I have ever had! This file is wonderful, technically superb. Let Princess Shelle take you on an intimate, warm personal feeling journey into the woods, where you will feel that you have shared the most special time alone with your Princess, while your feelings for Her will be taken to another level of sexual pleasure and love. Mistress, I treasure this time.
Wednesday, 23 November 2011
Amazing experience with Princess. Sensual, personal, rewarding... and informative!
Saturday, 19 November 2011
I think, that this file is the nearer of what we call Heaven. Shelle is the ultimate goddess, when she bring you, into the wood, making you feeling the divine combinaison of lust and love. A pure erotic file, with a little something wicked, but she leads you, into pure ecstacy. If you loved files like "Hypnotized sex slave" or "Complete Sexual Submission" you will totally melt in this file. It's like those file, but at least 10 times more intense. An hour, alone with my Princess, it was the most enjoyable hour of my life. Princess Shelle, I am forever yours.
Saturday, 19 November 2011
WOW! Quite possibly the most intense and yet soft sensual, sexual feelings I've had under hypnosis. Take a walk with Princess in the woods and allow Her to show you exactly how you really feel.
Saturday, 19 November 2011
This is the most lucid, sensual, erotic, touching, sexual journey imaginable... Believe the write up, it is all that and more. This is a must have that i will listen to again and again. Words cannot do it justice...be sure to experience this masterpiece.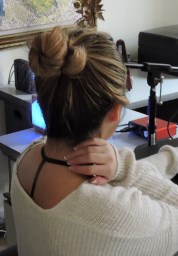 Get Updated