Hypno-Sleep
Deep Penetrating Arousing Sleep...
Description
Level: Powerful
Length: 31 minutes
Category: Brainwashing-Relaxation
Sample: LINK
Hypno-Sleep
Go ahead and sleep.  Trust Me and close those sleepy eyes, you do TRUST Me, don't you?...I promise not to play inside your mind too much while you sleep deeply for Me.  I mean maybe I'll use a little brainwashing, but it won't hurt.  I'll be very quiet and so gentle, you wont feel a thing.  I'll slip deeply and easily inside, isn't that sexy...I mean Me in control even as you sleep.
This file is perfect for a quick 31 minute DEEP PENETRATING RELAXATION or ideal for bedtime.
***The extended Delta Binaural that I chose for this file will reinforce My suggestions even during normal sleep.
This is a file that you will want to listen to over and over again.
Product Download
Hypno-Sleep-d9ht4jeq.mp3
Hypno-Sleep-d9ht4jeq.mp3
Reviews
Friday, 16 June 2017
I have listened to this file a couple of time during bedtime. I could not even tell you how the file starts. But deep within me I know that this file is important to listen to...
Friday, 23 January 2015
This file brought me to a very calm sleep. As i have some problem to fall into sleep this one is perfect for me to solve that certain issue. Of course my Domina uses Her chances like in most of Her files to indoctrinate me further. i'm so thankful that with Her help i'm becoming a better person and of course also a better slave for Her. i love Her and to be put mindlessly into sleep by Her is a bliss that's not to miss.
Thursday, 01 May 2014
This file is touching me deep in my core. I tried it yesterday evening the first time and it was so relaxing and calming. Feeling so close to my domina when listening to this file...
Thursday, 27 February 2014
This is my newest file and it put me to sleep so fast and while I slept it kept working on my mind. It felt so good.
Tuesday, 18 February 2014
This file is like heaven for a submissive. It makes you feel incredibly warm and relaxed and very aroused listening to this. Set this file to Loop as you go to sleep and you will not only have a delightfully relaxing sleep, but you will also receive some much needed brainwashing from Domina. Sleeping whilst under the guidance and control of Domina, I love this file.
Sunday, 15 December 2013
This file must work wonder as I listened to it quite a few times and still don't know what it does... It made me fall asleep quite fast, letting the loop run for several hours all the times I tried to listen to it. So I guess I just have to trust my Princess that what She does after the induction is good for me !
Tuesday, 03 December 2013
This file will make you MELT. Princess' voice is DEVASTATING. Her tones and inflections are irresistible. This is the perfect sleep aid...but so much more than that, because Princess puts you to sleep, like a soft kiss goodnight that will unplug your brain. I can't wait to listen again and again...
Tuesday, 03 December 2013
Deeply relaxing. The perfect file for me right now, the stresses of life ebb away so beautifully leaving me sleepy and refreshed at the same time.
Monday, 02 December 2013
A very nice and relaxing trance. It's very easy sleep and let it loop over and over. It's never been so good to be mindless and sleepy for Domina. This file will surely teach you a new meaning for the word sleep.
Monday, 02 December 2013
Great file with extra deepness i fell so deep that i don't know what happened at the middle of the file, and after it ended i had a deep night sleep peaceful and soothing as usual i Loved this file
Saturday, 30 November 2013
It took me five listens with this session for me to be able to recall anything about it. The temptation to roll over and sleep at the end of the file is very strong and by the end of the file the average subject probably isn't in a state to do very much. Hypno-Sleep is an absolutely perfect blending of a relaxation/sleep preparation file and a brainwashing and conditioning file. You will feel so relaxed and passive during this file that resistance will be the furthest thing from your mind.
Saturday, 30 November 2013
Wow! Devastatingly effective. Domina knew exactly what she was doing in releasing this file, suggesting with a grin that it is little more than a relaxation aid with a touch of light brainwashing. She rates it as "Powerful" and , my Goodness, she is right. Perhaps it's just me but I've had the file on loop all night and I struggle to think of another of Mistress's files that has so effectively wiped my mind and removed my will. Mistress: I sit here with a near-empty mind, craving your next command...
Wednesday, 27 November 2013
A very nice and soothing file. Sleeping while listening is just soooo easy. And those suggestions... well, i guess they can not be called a "suggestion", because it is obvious that all She says is true.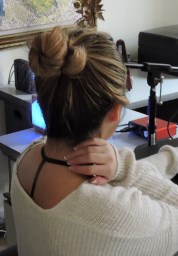 Get Updated