Brain Fried
An erotic and sensual experience...But, with a little twist of fate. It may be so HOT and make you so HORNY that it may just fry your blank submissive brain...
Description
Category: Chastity-Brainwashing-Mind Control--Erotic Hypnosis
Length: 40 minutes
What is your deepest fantasy about your Domina?  An intimate night with Me alone, naked and compliant, as you allow Me to hypnotize you, having My wicked way with your mind and body?
Well My sweet, I have a secret to share with you that will bring us even closer together.  To share this most intimate and sexy desire with you I need you to totally trust Me, allowing My hypnotic whispers and seductive touch to gently caress your body to the point were you are utterly mindless and aroused beyond anything you have experienced before.  At this point, when you are pliable and under My complete control, I will share my personal fantasy with you!
This revelation will fundamentally change your life and the very nature of O/our relationship.  It may be so HOT and make you so HORNY that it may just fry your blank submissive brain (Giggles).
Be assured and warned My baby that after this session you will be bound to Me so tightly, so consumed with desire, that you will understand what total obedience truly is.  you will love every exquisite moment...
Product Download
Brain-Fried-(c)ShelleRivers.mp3
Brain-Fried-(c)ShelleRivers.mp3
Reviews
Tuesday, 30 January 2018
This intensely intimate session with our darling Domina binds you closer to her, as she describes. The encounter is squirmingly sexual, and your resulting condition will extend way beyond the end of the file. Domina makes it very clear how she likes you to be, and with her endless charm and blunt honesty shows you why you want to be that way for her. This might be the best file of Shelle's I have ever listened to, making it one of the best hypnosis files ever.
Sunday, 28 January 2018
This file is torture, especially if you're already in chastity for Domina Shelle. After only a couple days of listening, I would like more than anything to email Shelle and beg for release, but I am doing her lockdown this year, so I still have a couple weeks to stay locked before I can even consider release. This file leaves me hornier and more desperate than any edging or denial I've ever done, but I can't stop listening because it's the most stimulation I'm allowed to even have right now. Don't get it unless you're prepared to beg and beg for release and obey whatever Domina expects in return.
Monday, 22 January 2018
Ahhh don't worry by the end of this tran c.f. e your brain will never recover. Tied to Domina Shelle forever
Sunday, 21 January 2018
This file is very powerful and it will help you realize the importance of putting your domina first. Amazing file!
Saturday, 30 September 2017
My Review probably will not be helpful, cause oh my did i got easily seduced into total Surrender, i know what she did, i know how insanely aroused i got, i know i lost even more c
Friday, 22 September 2017
This might be one of the most accurate titles for any of Domina Shelle's recordings. Listening to this file most definitely fried my brain! *giggles* This is an intense chastity experience in a most sensual hypnotic experience. Do take Domina Shelle's warning in the description seriously, after listening you will bound to her in a most strict way!
Tuesday, 19 September 2017
It's as if Domina read my deepest fantasy and made a file just for me. I don't want to go too far into the story, or fantasy of the file. But if you dream of putting Dominas needs and pleasure before yours completely, you WILL love this file. I cant still feel the excitement and arousal I felt while in trance. It's unbelievable. 500 stars for this file! my Domina is a true artist
Wednesday, 13 September 2017
Three times i did listen and every time i did pass out. This is how deep Domina's enchanting voice takes me. Though my subconscious does probably know the whole content i cannot recall all of it here to write about it ... giggles... this makes it somehow hard to write review. Nevertheless i can recall parts of it including suggestions of ultimate chastity. It is a strong file i can say for sure as i feel more submissive and more arousal for my beloved Owner with every listen.
Tuesday, 12 September 2017
Listen to this amazing piece of hypnotic art and you will feel what it's like to give your complete self over to our Domina. I can barely collect my thoughts to write, as my mind, body and soul have been affected so completely by this file. It's only been a few hours and already the effects are growing and becoming stronger and stronger. It's a wonderful feeling. Now I'm truly ensnared, both excited, and maybe a little afraid where this path will ultimately lead. But loving every moment. Thank-you Domina. Thank-You for Your exquisite control.

Monday, 11 September 2017
This is a more advanced file for those who want to go deeper into Domina's control. I did love every exquisite moment of this file, and I feel I am about to learn how tightly bound to domina that I really am. I can't wait.

Monday, 11 September 2017
She is doing it again. Making me on fire. This file makes the different .Life in submission and sevitude to the lovely and wonderful Domina Shelle. But be careful the mental fantasy can be reality forever.
Sunday, 10 September 2017
The Category definition in the description of this session implied from the outset this would be Chastity related, but what an absolutely incredible file this is!!! If you are remotely intrigued or interested in full sexual submission then this is the file for you! Chastity related erotic hypnosis comes in many different forms and until this file Domina's interpretation, generally speaking, has been more forgiving than others in the genre. This session takes Chastity to the next level and she leaves the listener utterly obsessed with her control over our sex. I for one am intrigued by this development and although I am fully aware of how full Chastity can be used to open new doors of submission and servitude, I nonetheless trust Domina Shelle implicitly and freely accept whatever designs she has for her slaves.
Sunday, 10 September 2017
When I realized, what Domina was doing, it was already too late. Even if I had wanted to resist, I would have been powerless. I already loved Chastity Lockdown , but this is even more intense and exactly what I had been fantasizing about the last days.
I can highly recommend this session for any slave who is willing to take chastity to the next level!
Sunday, 10 September 2017
Help! She is slowly cooking my brain! One of the best chastity recordings ever. i love it so much i need to go back into this sizzling hot hypnosis until my will is all soft. It seems to be part II of Chastity Lockdown. Although this time there are hot coals down in the trap! So be careful!
Sunday, 10 September 2017
It's a trap! Run away. Just kidding (maybe). But if you are like me and can't resist Domina Shelle, then you are going to enjoy letting Her have little fun with you.
Saturday, 09 September 2017
There's nothing sexier than how easily and deviously Domina Shelle wraps Her subjects around her little finger. Brain Fried is a masterpiece of both eroticism and of mind control, and the need to please and obey Mistress Shelle is so overwhelming that you'll happily embrace whatever changes She wishes to make in your helpless mind. Wish i could give this more than five stars.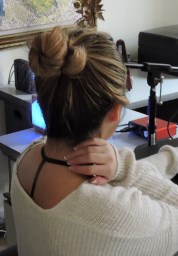 Get Updated