Lady Helena-Talk Live - 30 min
Schedule 30 min LIVE phone session with Lady H.
Description
Talk LIVE with Lady Helena - 30 minutes
I know you need more training to be perfected for your Domina, Talk LIVE with Lady H.  I am putting Her in charge when you talk LIVE.  She will lead you to where you belong.  She is DOMINANT and DEMANDING.  Make your TRAINING appointment today!
Product Download
LadyH-Appointment-Instructions.docx
LadyH-Appointment-Instructions.docx
Reviews
Saturday, 07 January 2017
Stop worrying about cheating on Domina Shelle by spending time with Lady Helena. You alrelady have Her blessing so what are you waiting for? Spending time with Lady Helena is an experience i will not soon forget and i cannot wait until the next time. Trust me, this is something you want to do. Thank me later.
Wednesday, 30 November 2016
It doens't matter if in trance or awake Lady Helena will push your limits and by doing so She is perfecting you for Domina... giggles... this way i become a better sissy for Her and Domina everytime She has a session with me. i love my sessi... so go ahead and schedule a session with Her, surrendering to Lady Helena means to surrender to Domina Shelle!
Friday, 11 March 2016
I know that Lady Helena is kind of Domina's enforcer, but I guess so far I've been a good boy. She read "Collar of Enslavement" to me. I love story time with Lady Helena!
More reviews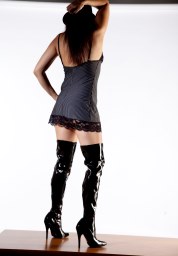 Get Updated