Lady H - Milk of Enslavement
C#m my little slave boy and accept your future as my enslaved fetish soaked subject...
Description
Category: Lady Helena-Enslavement-Fetish-Brainwash
Length: 29 minutes
Sample: LINK
Milk of Enslavement by Lady Helena--Shelle's slave girl
C#m my little slave boy and accept your future as my enslaved fetish soaked subject. Learn the true nature of addiction to your Lady Helena and accept your place in helpless bondage. As I ravish your mind with my milky nectar, each drop sinking you deeper and deeper into submission. Explore what it will be like to have your mind yield to my power and sexuality. Feel the pleasure of obedience while becoming my mindless slave boy. Explore the ecstasy of sucking on my breasts as they slowly hypnotize you into the mindless beast you are. Accept my rule over your Mind and your c#ck. Experience what it would be like to have me take you so deep into my world of saucy naughtiness, As I build your addiction for me while enslaving your useless mind. Become my toy and let me take you to a world you will crave my every word and want to Obey My every Command.. A place in which your addiction for my body, control and sweet slit will milk you dry. Accept your addiction to my gorgeous breasts, suck, lick and drink my milk of enslavement as I take you deeper into My Fetish world. Warning: Be warned My helpless inferior little slave boy, you must ensure you know what you are doing before drinking of my enslavement. As there will be no going back.
Listen with heaphones My slave boy!
Product Download
LadyH-Milk-of-Enslavement-3flz-(c)ShelleRivers.mp3
Reviews
Thursday, 05 October 2017
second exposure to Lady Helena. I am so thoroughly addicted. So sexy, and such a deep super-erotic trance, that is unique and fucking hot. i am so deep now
Wednesday, 29 March 2017
Ha!Ha!. What can I say.. this is full on sex..Lady Helena is so naughty in this file. Be warned.. this will ensnare You and is highly addictive. Her voice and delivery style is so different to Domina's but every bit as effective.
Tuesday, 25 October 2016
This is one really sexy file. Lady Helena's sexy voice takes you down deeply and the way she does it is mindblowing. What comes after that will put you right over the edge.I really love this file and cannot recommend it enough.Slave Nick.
More reviews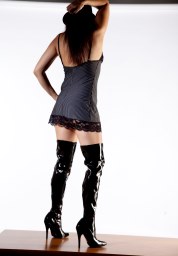 Get Updated