Lady H - Dirty Secrets
Lady Helena's "Dirty Secrets"
Description
Dirty Secrets by Lady Helena--Shelle's slave girl
Sample: LINK
Description (38 minutes):
slave boy c#m accept your place on your knees, naked, helpless as you fall deeper and deeper. Listen as my sensual words have you swirling around and around. Close your eyes as your Lady whispers in your ear. You know you crave my whispers, voice and words, lay beside me my slave.
Oh how I love to hear about dirty secrets and fantasies. You can't imagine how hot it makes me…how wet I get from hearing about your deepest and darkest secrets as I play with myself. As the thought of me fulfills your wicked desires. The thought of you helpless to my whims as I take you deep into my world of erotic torment. Think about how you long to share your desires with a sexy controlling Woman
C#m and share with me your desires, dreams, and cravings. You know you want to, my good slave boy. You know you need and crave too. To achieve true submission and realize your dreams you must submit completely. This file will bring you one step closer to realization of your dreams. So lay back, naked, collared beside me and let me milk your dirty desires and secrets from your mind. Now listen to my Dirty secrets.
Product Download
Dirty-Secrets-(c)LadyHelena.mp3
Dirty-Secrets-(c)LadyHelena.mp3
Reviews
Thursday, 05 October 2017
This is my first exposure to Lady Helena. I had no idea what to expect. in minutes i could feel myself falling. there was a countdown that confused my brain and dropped me so deeply, so quickly. So different to Mistress Shelle, but so powerful and sexy too. I didn't even know until weeks later that I emailed Lady Helena begging to go deeper, telling Her some dirty fucking hot kinky secret taboo fantasies of mine. i am addicted to Lady Helena already, and it's ok, because it serves Domina Shelle, my Master! i also serve Lady Helena now too. i want to stroke and serve.
Saturday, 31 December 2016
I love the feeling of Lady Helena's control. She knows everything about me now.
Saturday, 17 December 2016
This file is same time intimidating and sexy. Lady Helena has such a smooth, calm and convincing voice. i can't believe i sent Her an email and told about my secrets. i kinda hope that She misses it, lol.
More reviews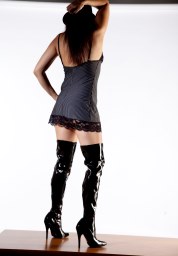 Get Updated