Hypnotic Prison
your Domina is pushing your limits with an almost sinister PRISON seduction...
Description
Length: 42 minutes
Category: Enslavement-Mind Control
Level: Powerful
your Prison cell has been prepared, your Warden will now lead you down to your destination... your final walk of freedom.  you have been caught, you knew this day was coming.  There is NO escape, no time off for good behavior, no appeals, NO pardons.  Just steel unbreakable bars.
Behind those bars you have no place to hide...you are there on display for Me.  The bars have you surrounded.  you are a convict here.  I am taking what I want, no more part time.  I want your mind for KEEPS.  No escaping the POWER of My control.  you will be devoured by a deep paralyzing trance.  you will accept your place, you have no will to resist.
Warning:  This is a deep powerful trance and you may find yourself temporarily paralyzed and extremely aroused.
Product Download
Hypnotic-Prison-4akw9l0d-(c)ShelleRivers.mp3
Hypnotic-Prison-4akw9l0d-(c)ShelleRivers.mp3
Reviews
Monday, 05 June 2017
I know that I loved this file, that I was placed deep into trance and then I was caught permanently. I don't remember much but I do know I was helpless to resist. Domina Shelle is an extremely powerful hypnotist. She has probably caught you already if you're at all curious about this. So listen to this file. It will put you in your place. Behind bars, in Her secure, hypnotic prison.
Tuesday, 28 February 2017
Being placed in prison by Domina is a paradoxical experience, because although it may seem like punishment, you want it so badly that it is hard to think of it that way. A sexy demonstration of just how deep Mistress Shelle's control over you really is.
Tuesday, 27 December 2016
This is an astounding session for those of us who, through our male weakness, fail to meet the high standards set by our Domina. Although Domina is a loving and caring Mistress she also knows that some subjects need additional conditioning to help them follow a submissive path. This session progressively demonstrates Domina's true power and leaves you in no illusion who serves whom. If you know you need additional guidance from your Domina, in order to be more faithful to her, then you need this file!
More reviews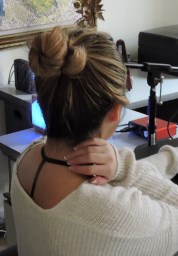 Get Updated