Get Fit-Get Moving-with Shelle Monitoring
Sign Up for the Get Fit-Get Moving program with monitoring by Shelle...
Description
Sign up Now:  Receive 4 weeks of monitoring and My Exercise Loop File.
Get Fit --- Get MOVING
Do you feel attractive and sexy?  Do you ever feel self-conscious when you are naked and kneeling (GIGGLES) or when you see yourself in the mirror?  Do you yearn to be more fit?  Have you tried to get fit and given up?  Well it's time to get up and get moving.
This nicely packaged Program is especially for you.  A little motivation, a bit of FOCUS and a few brainwashing moments...all tied together to help you get MOVING and get FIT.
Listen as you walk...or you choose the exercise...maybe bike or free weights...It does not matter...Anything is easier with My voice as your guide.
My puppy, accountability and success are DEEPLY intertwined.  you can't have one without the other especially when it comes to being healthy including exercise, eating right and even sleeping.  Whether you are being accountable to yourself or another.  your success in achieving fitness and health goals is tied to accountability.
Exercise - Get-Fit Get-Moving program will drive you toward complete accountability and ultimate success.  Acquiring this program you will become more accountable to Me.  Every week you will be required to report your progress (I.e. exercise, eating, sleep, weight, etc.).  Depending on your results, I may reward you or you might find yourself in my doggy house including being punished. Giggles!!!!
By Signing Up for Get-Fit/Get-Moving program you will receive, Loop Session and 4 weeks of accountability support, include weekly email check-ins.  So accept your place at My feet and become the slave you always wanted to be.  Learn what true accountability feels like.  Submit and sign up for My Exercise – Get Fit/Get-Moving program.
WARNING:  Always consult your physician before beginning any exercise program.  This general information is not intended to diagnose any medical condition or to replace your healthcare professional.  Consult with your healthcare professional to design an appropriate exercise prescription.  If you experience any pain or difficulty with any exercises, stop and consult your healthcare provider.
PS...A new loop and renewal will be available in 4 weeks---This is an ongoing PROGRAM.
Product Download
Get-Fit-Program-for-MONITORING-(c)ShelleRivers.rtf
Get-Fit-Program-for-MONITORING-(c)ShelleRivers.rtf
Get-Fit-Get-Moving-LOOP-(c)ShelleRivers.mp3
Get-Fit-Get-Moving-LOOP-(c)ShelleRivers.mp3
Reviews
Monday, 11 December 2017
i have done exercise before this File already and still i am glad that i got this one, it makes doing exercise so much sweeter with having her Voice in my ear, it´s as if i would do the exercise for the both of us and it also helps to push myself way more then usual and that all just because of her voice in my ear, infact they first time i pushed myself so much harder then usual that to my surprise i afterwards had aching muscles for days lol

Also i honestly have to say, the first time i exercised with this File it also was quite a bit weird, cause well i just can´t stop myself from getting horny with her Voice xD

But since the first time i listened to this File i already knew i wouldn´t want to miss listening to her while exercing ever again and so far i also din´t it´s almost natural already to start this File before starting :P

Everyon who wants to do exercise no matter if for weight lose, health or just doing so to please her, i only can recommend this File ^-^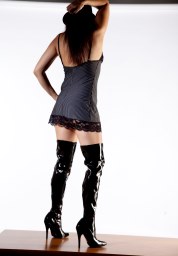 Get Updated