Dopamine
Don't resist---FEEL the COMPULSION building.
Description
Level: POWERFUL
Length: 45 minutes
Category: Brainwash
Sample: LINK
This file is a very IMPORTANT part in your slave TRAINING program.
Listening to this file is your COMPULSION----you will just do it.  You have waited for something so POWERFUL that it will actually change you.  Make you better.
Dopamine comes along at the perfect time in your continuing slave training sessions.  Dopamine helps control the brain's reward and pleasure centers, helps regulate movement, emotional responses.  See where I am going? ~giggles~
I am preparing you for a more direct path to reach Me (your Addiction), a more direct path in service and obedience.  A path to complete slavery.
So, SURRENDER what is mine, your mind, for its DEMISE.  I will also REMAKE it.
Listen with your headphones on for WICKED effects.
Product Download
Dopamine-u14fnr7h.mp3
Dopamine-u14fnr7h.mp3
Reviews
Saturday, 10 June 2017
The more I listen to this file, the better it gets. Definitely feeling the effect as i cannot resist listening to it. Domina Shelle's voice has become very addictive to me already and all i want is to please Her and surrender to Her. i am craving Her control, happily giving in to Her sexy voice. Getting aroused just writing this as i think about sinking back down knowing my place is to be Her devoted pet, Her adoring slave.
Wednesday, 07 June 2017
Dopamine is the most effective hypnosis file I have ever heard. The pleasure is intense and irresistible. If enslavement feels this good to me then it must be my destiny. I need to feel like this forever. I will live my life for Domina Sheile.
Monday, 20 March 2017
This is definitely on my favorites list. Only looped the file twice and it took me deep both times. Although I did notice some resistance during the first round, it went away completely in the 2nd. So glad it did. Very enjoyable!
More reviews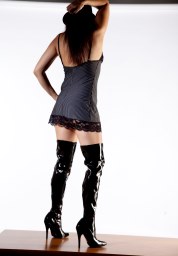 Get Updated