Chastity Offering-Option 2
Chastity Offering - Option 2
Description
$20 Chastity Offerings are to be made twice a month for additional monthly interactions.  It may include "surprise" monitoring of your Chastity... Requests for detailed reports on your activities and occasional tasks and teasing assignments to please your Princess.  I want you feel the pleasure of My strict enforcement and control.  I love you staying hard and horny for your Me.  This is My way of caring for you with My love, attention and approval.
you do serve Me through your Chastity and obedience and O/our relationship strengthens when I pay closer attention to your Chastity.  My goal is to provide you with a more intense sense of submission and enslavement..... You may also seek MY permission for release....and to hear directly from your Mistress when it is time to C*m for ME.  I will decide if you release, LIVE TALK, chat or email.
$20 Chastity Offering may be allowed once a month, if more financially feasible, with My approval.
Product Download
CHASTITY-Offering-Loop-(c)ShelleRivers.mp3
CHASTITY-Offering-Loop-(c)ShelleRivers.mp3
Reviews
Tuesday, 23 August 2016
It feels so good to be in a chastity for Domina Shelle. On the edge. Pushing the limit and trying to survive the assignments and teasing. Wanting to please Domina. Making slave aroused and obedient.
Saturday, 20 August 2016
I love to be chaste for Princess Shelle! Her teasing and the constant arousal is so much better than cumming!
Sunday, 22 May 2016
The pleasure of being in chastity for my Domina is enormous. If you haven't tried this I ask you why? It's a glorious opportunity to serve your Domina, and the file that comes with this will leave you begging her for more. This is so much fun!
More reviews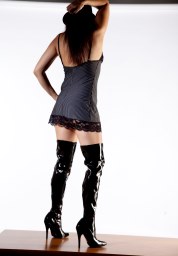 Get Updated