Chastity Lesson 1--The Conditioning
Chastity Lesson 1 - The Conditioning.
Description
You have waited patiently and NOW the time has come.  Time for My gift of CHASTITY to you.  This will allow you to NOT cum for Me.  Yes, giving you the PLEASURE of a full-time erection.  Just think, HARD and HORNY with ME, your Domina/Princess whispering NAUGHTY thoughts into your ears.
This is the first of 5 lessons in your NEW Chastity TRAINING but there will be surprises along the way.  If you fail, I will even allow you to start over.  Don't worry, we will do it until you get it right. ***GIGGLES***
I love teasing you.  Just another step in perfecting you for your place on My farm...
So be closer to Me---Give Me all control of your c**K...and of course your mind.
***You may begin your training right away.  Listen to your first file---and listen at least 3 times.  You may stroke as often and as LONG as you want during your training.  JUST know when to STOP---do not cum.
In case of an accidental release---you must pay the Chastity Penalty and start over with the lesson level that you were on during your release.
Be sure to send ME an email upon beginning your chastity---in the subject line --- you will write (I am now in chastity for you Domina---you own my c **k).
Watch for TEASERS during your training.
Can't wait to see you in SEXUAL AGONY and BLISS.
***INCLUDES PICTURES OF ME.
Product Download
Chastity-Lesson-1-The-Conditioning-d9wbjy2a.mp3
Chastity-Lesson-1-The-Conditioning-d9wbjy2a.mp3
Chastity-Lesson-1-pic-3.JPG
Chastity-Lesson-1-pic-3.JPG
Chastity-TEASE-1-q6mhs8kx.mp3
Chastity-TEASE-1-q6mhs8kx.mp3
Chastity-Lesson-1-pic-1.JPG
Chastity-Lesson-1-pic-1.JPG
Chastity-Lesson-1-pic-2.JPG
Chastity-Lesson-1-pic-2.JPG
Reviews
Friday, 03 March 2017
i recently entered chastity for Domina, and this file is helping me embrace the process of giving up control. There's something incredibly arousing about being co-opted into one's own enslavement, and Domina Shelle always gets what She wants. Can't wait to advance further.
Monday, 20 July 2015
This is a great introduction to an amazing journey. Come sail with your captain -- Domina Shelle -- as She leads you to new territory -- a place where you will heed Her siren's call and gladly submit yourself into chastity for Her. You might not ever want to cum again once She's done with you.
Sunday, 12 July 2015
And so it begins...you know, there was a time when i thought i was so smart about sex and love and how it all works. There was a time when i thought i was such an expert on the subject...then i met this amazing woman who taught me, actually taught me that i didn't know anything about myself, about orgasm, about arousal. She brought me to life with just her sexy voice, commanded my body to obey, took me to the very edge and then taught me the true magic of staying right there, on the edge, loving the white hot arousal that she had given me, worshiping it and loving every hot throbbing second of it...rnrnWith this file you will begin to learn the one basic truth that is so simple and profound, that the magic is not in orgasm it is in neverending arousal. You will burn, You will ache, You will beg, most importantly you will begin to understand that the endless hot throb within you that goes on and on is where you are the most contented, most happy and most fulfilled. You will also learn that there is no orgasm like the chastity orgasm and once you experience it, you will never be the same again. rnrnDomina Shelle is not only my friend and my Domina, she is my teacher and i am always very moved to realize just how much i have learned from Her. How much She has taught me, how much She continues to teach me on a regular basis.rnrnDon't miss the beginning of the defining journey that is Chastity. Be open to it, embrace it and learn from it. You will be better for it.
More reviews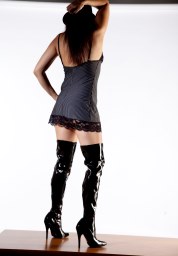 Get Updated