Brainwash Mantra LOOP
A perfect loop file or a quick mind f*ck
Description
The perfect SHORT BRAINWASH file to listen to DAILY...Or just loop for deeper results.  So sexy, so POWERFUL and so DANGEROUS.  Listen at your own risk...may cause permanent desires, wants and NEEDS in your mind and body!
Must listen to NOW!
Product Download
Brainwash-Mantra-LOOP-(c)ShelleRivers.mp3
Brainwash-Mantra-LOOP-(c)ShelleRivers.mp3
Reviews
Monday, 27 February 2017
Short, but potent. i need to spend more time with it, but Domina's words are rapidly becoming indistinguishable from my own thoughts.
Tuesday, 17 January 2017
Domina Shelle has created an amazing file which could be used multiple times a day. It's is so true what she says in this file and this will be forever.
Monday, 16 January 2017
This loop is a great reinforcement of everything I knew already. It has been an enjoyment to loop over and over again. Any slave serving our wonderful Domina should own this file and listen daily.
More reviews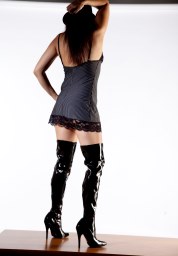 Get Updated