Blue Maiden
This will bring you another step closer to COMPLETELY living under MY wicked control...
Description
Level: Hard
Length: 22 minutes
Category: Sexy-Brainwash-Mind Control-CONFUSION
Come to Me, kneel at the feet of Her Blue Majesty.  She uses Her beauty and magical words to pull you closer than before.  She will seduce you into a deeper trance and wreck your mind with Her thoughts.  This file will touch your HEART, your mind and bring you amazing arousal.
Converting your thinking.
Guiding you to your perfect place, adjusting your priorities.
She will establish your role and command your service.
You will be Her loyal and committed slave....The further your training progresses the greater My control flows through you, so naturally.
Her words captivate you as Her wicked ways play with your mind.
Don't miss this, one of My most BEAUTIFUL pieces of work.
This file has a mixture of CONFUSION and Subliminals---enhancing your trance and deepening your submission.
Product Download
Blue-Maiden-xlz7jvo5.mp3
Blue-Maiden-xlz7jvo5.mp3
Blue-Maiden-pic-2.JPG
Blue-Maiden-pic-2.JPG
Blue-Maiden-pic-1.JPG
Blue-Maiden-pic-1.JPG
Blue-Maiden-pic-3.JPG
Blue-Maiden-pic-3.JPG
Blue-Maiden-pic-4.JPG
Blue-Maiden-pic-4.JPG
Reviews
Tuesday, 19 January 2016
Feels like entering a blue heaven and angels whispering softly in my ears.. ooh how hard it is to turn back to reality when Domina just did such a superb job to pull me down deeper into submission and love for Her. Thank You Domina, my Blue Maiden, please please continue to take possession of my mind..
Wednesday, 28 January 2015
This is different than most of Domina'a files or at least it had different effect on me. I found this to be more spiritual and kinda poetic. But at some point I was so relaxed that I lost the meaning of the words she was saying and it became more important how she said them. This caused my mind to shift between relaxing and refocusing. That doesn't usually happen to me, so it was bit surprising.
Monday, 12 January 2015
journey slave review ...Speechless, Confused...how should i write a Review now? Let´s see... What i can say is that this File starts with how should i call it Hypno poetry? That this was beautiful and from there are on it´s like i was gone, i experienced something wonderful and woke up kneeling in front of you, heartbroken? Näh that´s not it, but something happened, you took it away and all what i now is that my heart is hurting and that i crave to experience this again... Does this make any Sense? i swear i have no idea what happened all what i truly know is that this was wonderful
More reviews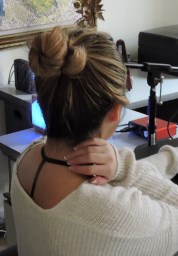 Get Updated