My Blog
Written by

Administrator

Category: Blog
My pet, My goal is for U/us to have some summer fun together and this week's assignment is how I want U/us to do it.. Most of the time you spend with Me is most likely, alone and inside.  Someplace private where you can get hard and horny for Me.~giggles~  I love that thought, so keep it up for Me, so to speak.
Start your day with your Mantra, if that is what you do.  I want you to try to go beyond listening to My files if that is what you do for Me.  Am I a motivating force in you life?  Does your connection to Me bring good things to your life, improving your important relationships, have you do well at work, invest in your health and well being because I want that for you?
Know you please Me when you follow My instructions.  Know you will be pleasing Me with this assignment.  I want you to be happy with your life in obedience and devotion to Me.  Know this is an opportunity to get outside your mind, outside your fantasies and bring Me along on this adventure.
I also want you to get outside in the summertime, or winter if you're down under.  I want you having thoughts of Me when you're active with someone of importance to you, a partner, a family member, a friend, someone at work.  I want you to be a fun companion.  The purpose of this assignment is to have fun with someone in your life, wherever you live.  Integrate Me into your day to day life.
People come to this website from around the world.  There will be an opportunity with this assignment to make a comment which includes your hometown....I'm curious to see just how far reaching MY trip around the world will be.  Sign up for this week's assignment.  I promise it will be fun.
Now for this week's file release...
Mind Numbing Sleep ---YES a NUMBING sleep.  A deeply penetrating, MIND CONDITIONING hypnotic file.  Your mind will open completely to My suggestions as MY triggers SINK deeper...a perfect BRAINWASHING.
This file is PERFECT to be LOOPED ---- Let Me into your Subconscious NOW!
Listen NOW---this will be a file that will be on your upcoming assignment calendar---COMING SOON!  Details available soon!  THIS is going to be amazing!!!
Chastity UPDATE
ONLY after listening to this file 3 times---you may c*m.  If you have been in chastity, YES it's time to end chastity after 3 listens.  When you BREAK chastity, you will be listening to either ---- At My Feet or Sweet Deception (if you don't have either file choice, they are in My special deals).
Contracted slaves---Be sure to check your private site for more details.
My special deals this week ...
At My Feet --
Have you ever felt what it is like to literally be BELOW and BENEATH a Dominant Woman?
The CatBurglar --
DANGEROUS woman in black latex, so hot she will melt your mind...
OBEY OBEY OBEY --
Listen and OBEY---can NOT resist---
Sweet Deception --
My enchanting sweet and innocent voice will catch you a little off guard...
Written by

Administrator

Category: Blog
I mean, can sex sell NO stroking, no cu**ing.  Is being HORNY better than cu**ing?  I love My panties wet and I love you swollen.
Let's try NO cu**ing for another day....and see what W/we think.
I love you HARD!!!
Check back tomorrow...look for a C*M COMMAND!
Surrender S---giggles
New file on Saturday!!!!  you will LOVE the relaxation of this amazing LOOP file.
Written by

Administrator

Category: Blog
Is My puppy HORNY, does he need to C*M?  Awww, I love that c**k hard for ME...it makes ME wet, you know.
I know you were HOPING to see a C*M command, but not yet.  Maybe tomorrow, OK. ~~~GIGGLES~~~
Watch for MORE on updates TOMORROW and the NEW sleepy BRAINWASH file.
Surrender S
Kisses and LOVES
Written by

Administrator

Category: Blog
HMMMMMM---
Speaking about puppies--giggle--it seems that there is MAJOR interest in becoming My perfected PUPPY.
Well as you know I am only here to serve you--oh no--that's the wrong way round --haha
Anyway—This summer will be providing you My puppy with all the appropriate training you need----bark twice if you want it----mmmmmm GOOD PUPPY.
Now for ---- "What can you do for ME?"
Every so often I have to remind you how important it is that you communicate with Me---letting me know what you like and how much---and if something is a little off for you--email me.  Unless you give me feedback--the only way I can gauge how good a file is, is only by how many sold-----and unfortunately sometimes you buy a file just because of the title--SOOOO--or just because you LOVE Me!
PLEASE REVIEW MY FILES---feedback pleases me -----and I know it is VERY important for you to please me.
Who will be giving feedback MUCH more often---YOU OF COURSE ---Give feedback for TRIBUTES and LOVE GIFTS too.  I love seeing your name there.
Have you been checking back here for a BIG surprise---I love to keep you in suspense.  Wicked little Princess, don't you think.  Playing a dirty trick on you---
Well here's your surprise FINALLY---if you do NOT want to be drawn in STOP READING NOW----I want you hard and horny...I am going to accept your sacrifice of a full week of orgasms to ME.  Yes, I want you to join ME---beginning RIGHT NOW---1 week of CHASTITY.  I'm too good to you!  I have added the CHASTITY Series to special deals, just in case you do NOT already have them.
Come here for My special deals.  As a holiday treat I have marked down these files 50% until Monday at midnight, eastern time.
Now I have another SPECIAL treat for you.  Let Me know if you want MORE...
Written by

Administrator

Category: Blog
My pet, as you know, this week was the week for My CEU'S (Continued Education for Nurses).  I finished yesterday and then spent the afternoon with My family at the pool, that was amazing...It's the beginning of My summer fun.  Getting away with family was something I enjoy so much.  I know it does not sound like a lot, but sometimes we have to steal away those special moments whenever we can.  It gives Me the sense of being that lil Farm Girl.  This is the core of who I am from when I was a little Girl, the values I have that I live My life by.  It reminds Me of the importance of family.  The stability and confidence that love and caring gives to your life.  That is My priority.  To always have that in My life.....to give and receive love and care.  And I share these feelings and values with you, My owned slave...
I have a BIG surprise for you.  I will announce it right here on Tuesday.  Be sure to check the blog often.  W/we are kicking off this summer with a BANG.
In the meantime, follow Me on twitter and facebook.
This week's file A Lesson In "Disobedience".  I will take you into TRANCE and push subliminal messages into your brain.  Oh you may not hear the messages but your subconscious mind will.
Contracted slaves---Be sure to see your assignment on your private page.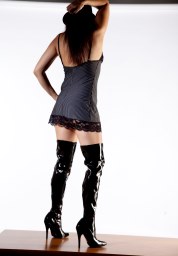 Get Updated